La Grave - La Meije - Serre Chevalier - Sestriere - San Sicario
Explore untracked and wild ski itineraries between France and Italy.
When you arrive at La Grave you can see straight away that you are not in a classic ski resort. The old cable car provides access to the Girose glacier in the Meije massif at the gates of the Ecrins National Park. In a high mountain atmosphere, your guide will take you to ski long itineraries of 2000 mts of vertical drop to discover the valleys and wild couloirs that lead to the hamlets below.
A few kilometers away, just behind the Lautaret pass, Monetier-Les-Bains is linked to the Serre-Chevalier ski area. You will enjoy skiing between well-spaced century-old larches for a stopover on the road to San Sicario.
The last stage of this ski safari takes place in Italy, based in San Sicario, in an authentic 18th century farmhouse. Two days of skiing in the Piemont region will allow you to discover some peaks and ski routes of the upper valley of Susa and Sestrière. You will appreciate the Farinosa ( local name for powder snow) in the many ski itineraries of the immense Milky Way ski area.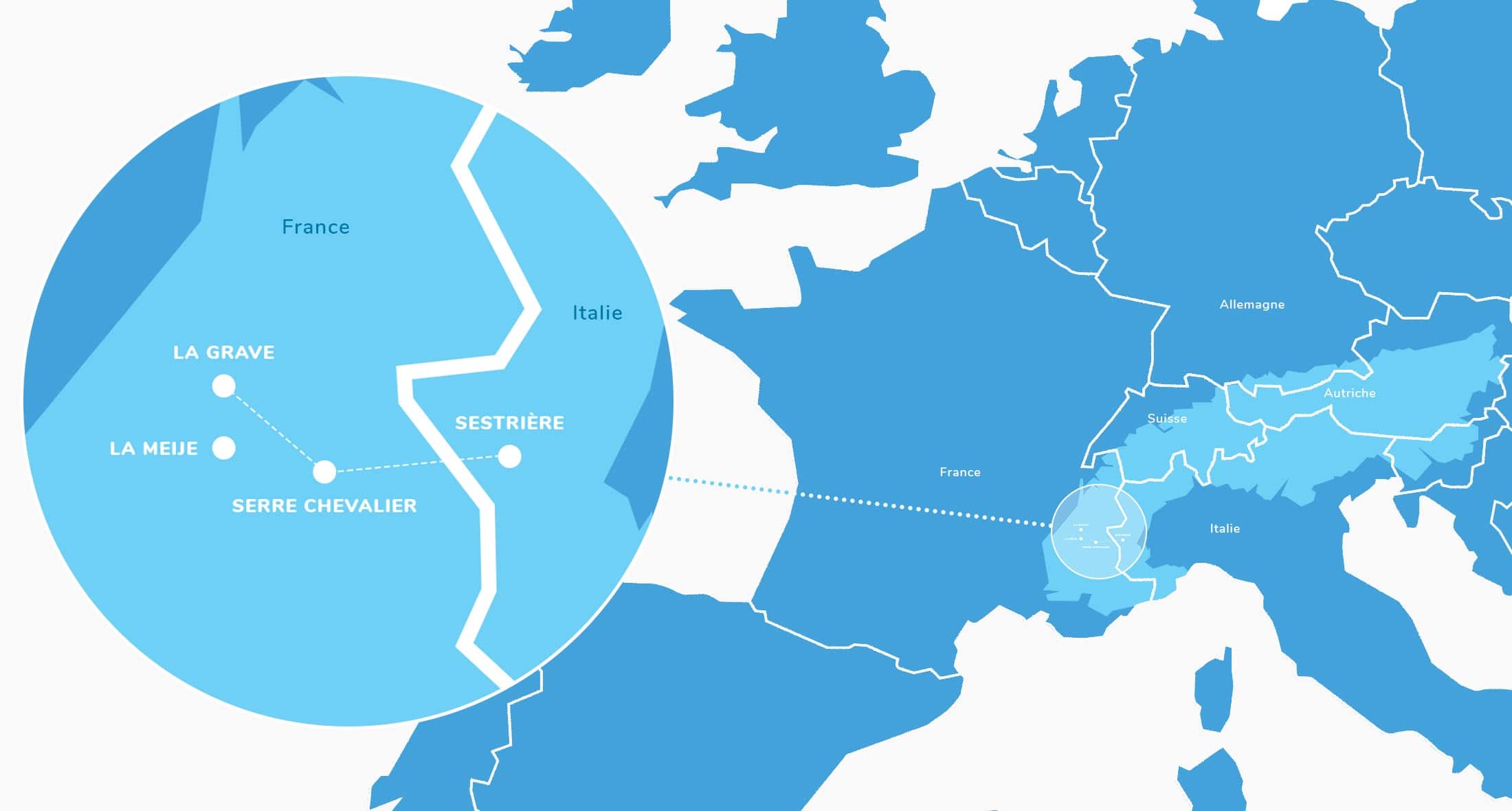 What you will do during your trip
Off-piste skiing for six daysdiscovering the highest peaks and new valleys with small villages each day.
Performing descents from 1500 to 2000 meters of vertical, crossing the most beautiful summits and passes of the region.
Staying in a typical 18th century Piedmont farmhouse and enjoying delicious meals cooked with farm produce.
Program
DAY 1: Meet at the Hotel Edelweiss in the center of La Grave.
Meeting at 6.30 p.m. - Meeting with the guide, checking of everyone's equipment and distribution of the safety equipment provided. Meal and overnight at the hotel.
DAY 2: Ski La Grave - La Meije
In the morning, the Grave cable car takes you in 30 minutes to an altitude of approximately 3200 mts, dropping you in a unique setting of large glacial expanses, steep couloirs where you can leave you tracks far from the marked trails and ski lift towers. You will start the day with an off-piste safety briefing. At noon, get ready for the famous "Grand 9V Picnic". From Les Vallons de La Meije, ski back all the way down to the river La Romanche, then a short walk will take us back to the Hotel Edelweiss.
DAY 3: Ski from La Grave towards St Christophe en Oisans
Wide open spaces and virgin snow for this endless descent to the hamlet of St Christophe. 2000 mts of powder skiing in a wild valley. Return by taxi to the hotel. Overnight in Edelweiss.
DAY 4: Ski la Grave
Once again your guide will carefully choose some ski route with good snow for this last day in La Grave!
DAY 5: Ski Serre-Chevalier - Pelvoux
Depart early in the morning for a 30-minute drive to reach the village of Monetier-Les-Bains. A day of great skiing with a long descent to the typical village of Pelvoux in the Vallouise valley. Return by taxi to our cars followed by a 40-min drive to San Sicario. Overnight in Barbagust.
DAY 6: Ski San Sicario - Sauze d'Oulx
A great day of skiing through the vast and mosty untracked area of the Milky Way. You will love the Italian farinosa snow! Overnight in Barbagust.
DAY 7: Ski San Sicario - Sestrière
We will end this ski trip in style with a grand tour of the Milky Way ski area. Possibility of heli-skiing (option). You will then have traveled the most beautiful off-piste itineraries in one of the snowiest regions of the Alps. Overnight in Barbagust.
DAY 8: Breakfast - End of Ski Safari
The program is subject to change depending on the conditions on the ground and the fitness of the participants.
Hotels and Huts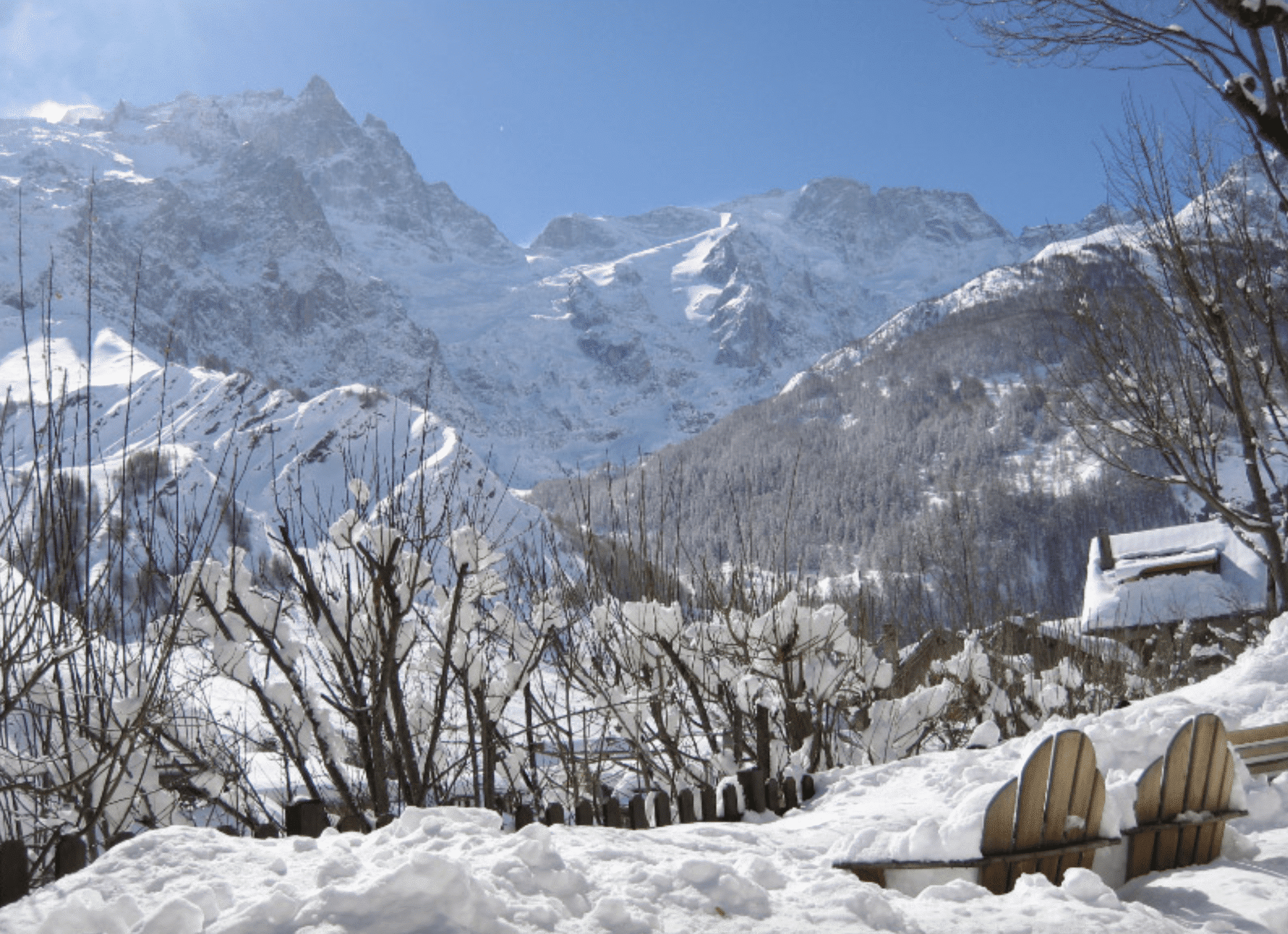 Hotels and Huts
We have chosen typical accommodation in each valley, so you can experience the authentic mountain atmosphere. Run by local families, they have their own history in the valley. The hoteliers give us a warm welcome and the hotels comfort is remarkable. Each dinner will be like a well-deserved feast after a good day of skiing in the mountains! To cope with the two hotel changes, plan to pack practical and light luggage!
HOTEL EDELWEISS at La Grave. It is the meeting point for all lovers of off-piste skiing. The atmosphere is warm and mountainous and the comfort of the fully renovated rooms is worthy of a superior class hotel. The setting is exceptional and all the rooms have a beautiful view of the Meije glaciers…
BARBAGUST FARMHOUSE is located in the small hamlet of San Sicario in the middle of the mountains. It is accessible by car but also by skiing through fields. This 18th century farmhouse is still operated by the family patriarch who is now 90 years old. His children and grandchildren take care of the hotel and catering business … The rooms all have a bathroom and are decorated with traditional furniture. Each meal is prepared with products from the farm, accompanied by the owner's wine and a tasty "Grappa", typical italian liqueur.
Included
9V GUIDES
Full-time supervision for 6/7 people by a fully certified UIAGM / IFMGA mountain guide specialist of the region.
LIFT PASSES
6 days ski pass for all the ski resorts we cross.
ACCOMMODATION
7 nights in comfortable hotels with half board on a double room basis:
– 4 nights at the Hotel l'Edelweiss, with buffet breakfast and gourmet dinner.
– 3 nights at the Barbagust farm, with breakfast and typical meal based on farm products, wine and liqueur included.
TAXI
To return to our base when we finish skiing in isolated hamlets!
SAFETY GEAR
You don't have the famous avalanche beacon, shovel, probe triptych? We can lend it to you. If you have your own safety equipment bring it!
RESCUE EQUIPMENT
Each guide will have all that is necessary for the safety of his group in his rucksack.
Not included
RESCUE INSURANCE
Compulsory for all trips. A good contract covers mountain rescue, transport to the nearest hospital and repatriation. Check your personal insurance contract which may include this risk.
TRIP INSURANCE
Considering the costs incurred, this insurance is strongly recommended. A personal contract can be subscribed individually. The cancellation to be covered may be the cancellation of the stay or the refund of the remainder of the stay in the event of an interruption. Check your credit card policy. Payment by credit card, Visa Premier or Gold MasterCard, may provide cancellation insurance.
SINGLE ROOM
For snorers or simply to be more comfortable!
BACKCOUNTRY / SIDECOUNTRY SKIS
For this ski safari, the 9V guides recommend and use skis of 100 mm under the foot, equipped with touring bindings, climbing skins and ski crampons for hard snow.
AVALANCHE AIR BAG RUCKSACK
Sophisticated backpack designed to prevent burial in an avalanche.
TRANSPORTATION
Personal car.
LUNCHES
Often group members will pool their money for lunch.
DRINKS
Often group members will pool their money for wine at the dinner table.