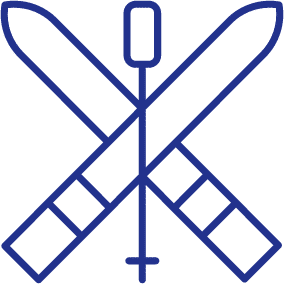 Ski touring has long been reserved for a small, initiated circle. The recent evolution of equipment now allows everyone to discover this practice allowing to go off the beaten track and explore wild regions.
Fans of first track and unspoiled nature will be overwhelmed by the unique moments they will experience thanks to ski touring.
We offer three types of
guided ski touring trips:
Itinerant ski touring trip: Between each stage of skiing, we travel by car from valley to valley in order to discover a massif, a region or sometimes even all that a country has to offer.
Ski tour: Itinerant tour on skis, from hut to hut, guaranteeing a total immersion in the high mountains.
Ski touring trip based on a boat: With a boat for refuge, but also as a means of transportation, we can explore on skis almost any isolated region of the world!
Group sizes vary from 3 to 7 people per guide depending on the following criteria:
-The nature of the terrain, glacial or not.
-The greater or lesser isolation that the destination presents.
-The presence of a reliable emergency service on site or not …
All participants must be equipped with the avalanche safety triptych, i.e. a avalanche transceiver, a shovel and a probe.
Ski touring equipment
Skis, telescopic poles with large washers, sealskins and good condition, knives for hard snow.
They hold the UIAGM / IFMGA mountain guide diploma or the French ski instructor, they have many years of experience on skis and in the mountains. They know perfectly well the most beautiful descents and the secret passages of each classic destination in our catalog. They always choose the routes of ascent and descent according to the level of the group and the stability of the snowpack.
New destinations
9V guides love to discover new destinations with their groups. It is their profession as well as their passion to prepare a new itinerary.
Frenquently asked questions
Should I bring my personal skis ?
Yes, as long as they are adapted to the type of trip in which you are going to participate. For
Are we going to ski touring?
No! Well not really, but almost… Actually, it is quite possible that we do a bit of SIDECOUNTRY SKIING. It's
Michel • powder skiing safari – British Columbia Canada
Nicolas • ski touring 14 days – Patagonia Argentina