MONT BLANC - AIGUILLE DU CHARDONNET - GRAND COMBIN - DENT BLANCHE - CERVIN
Cross over twenty wild glaciers between Chamonix and Zermatt on ski touring.
This high altitude trip allows you to ski some of the main glaciers of the alpine arc between Mont Blanc and the Matterhorn.
For the first three days, we will take the original itinerary of the first ski crossing made by Dr Payot and his guides in Chamonix from January 16 to 19, 1903.
From the fourth day on, there are many options before reaching Zermatt via the Zmutt glacier at the foot of the Matterhorn. Passing through Valsorey and the southern slope of the Grand Combin, the raid is wilder and a little more technical but also allows you to get off the beaten track and experience the isolation and calm that Dr Payot and his guides must have encountered.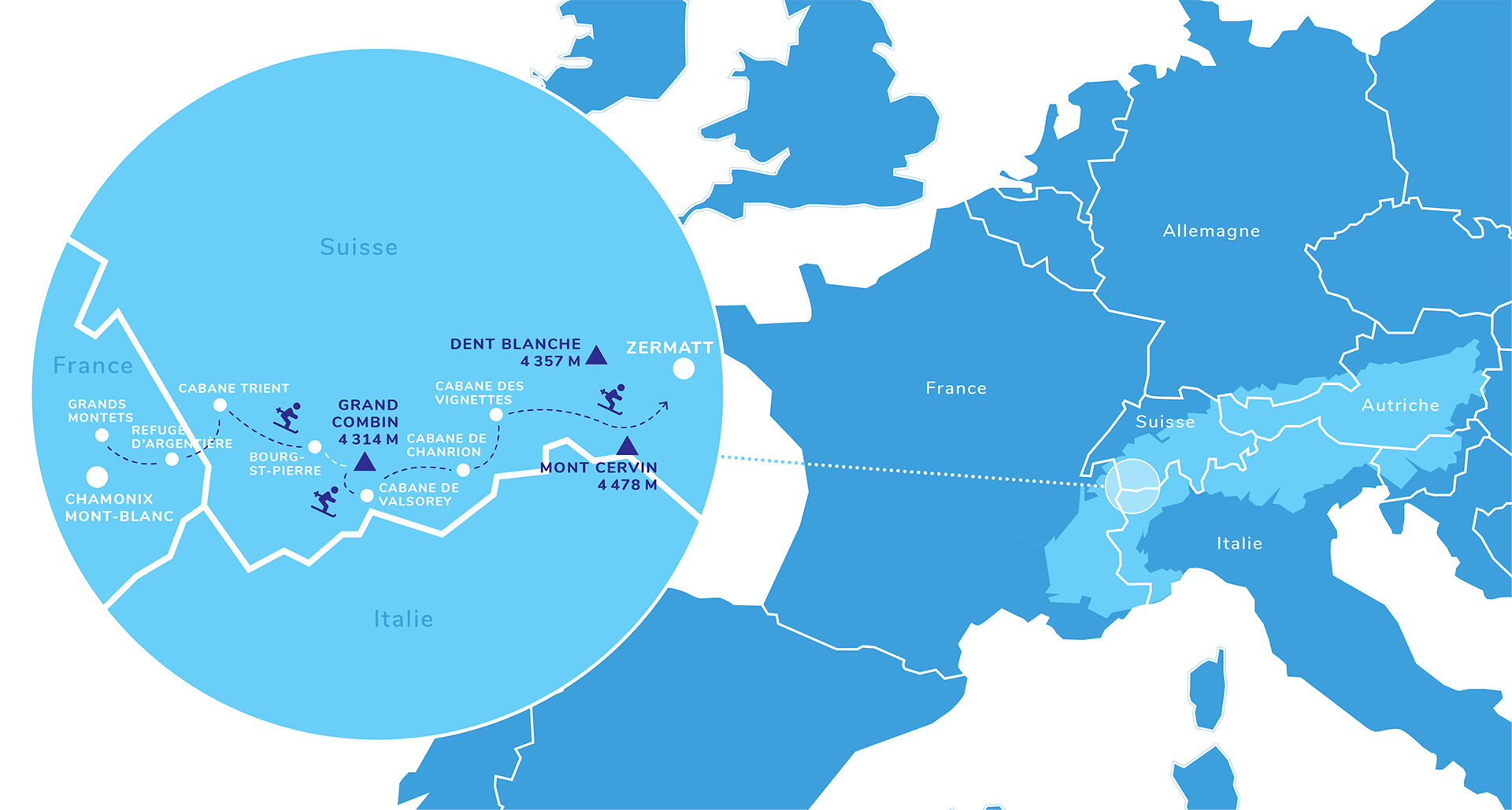 What you will do during your trip
You will spend several days in high mountainintotal immersion in the glacier paradise.
Climbing a few summit of 4000 mts highcrossing twenty glacier in the heart of the Alps.
Meeting skiers from all over the world when stopping for a well deserved break in the cabanes*.
*(swiss mountain hut.)
Program
DAY 1: Meet at the Chamoniard Volants hostel
Meeting with your guide, check everyone's equipment and distribute the safety equipment provided. Overnight at Le Chamoniard Volant.

DAY 2: Grands Montet - Argentière
Departure from the top of the Grands Montet cable car. Warm-up at the Grands Montet and first ascent to the Argentière refuge at an altitude of 2771 mts .
DAY 3: Argentière - Trient
Departure for the Chardonnet pass at 3323 mts, Saleina window and Trient refuge at 3170 mts high. Ascension / Descente : +900 mts, - 1000 mts, 5 to 6 hrs.
DAY 4: Trient - Bourg St Pierre - Valsorey
Descent to Champex via the Arpette valley, taxi to Bourg St Pierre, then ascent to the Valsorey hut at an altitude of 3030 mts. Ascent / Descent: +1500 mts, - 1000 mts, 6 to 7 hrs.
DAY 5: Valsorey - Chanrion
Climb with crampons to the Meitin pass at 3664 mts high, Sonadon pass, Mt Durand glacier and Chanrion hut at 2462 mts high. Ascent / Descent: +900 mts, -1500 mts, 5 to 7 hrs.
DAY 6: Chanrion - Les Vignettes
Ascent to Pigne d'Arolla at an altitude of 3,796 mts high descent to the vignette hut, a veritable sanctuary above the glaciers at an altitude of 3,194 mts. Ascent / Descent: +1300 mts, -600 mts, 5 to 6 hrs.
DAY 7: Les Vignettes - Zermatt - Chamonix
Col de l'Evêque at 3392 mts high, Col du Mont Brûlé at 3213 mts, Col de Valpeline at 3570 mts and long descent via the Stockji and Zmutt glacier to Zermatt. Return to Chamonix by taxi minibus. Ascent / Descent: +800 mts, - 1900 mts, 5 to 6 hours of skiing + 2:30 hrs by taxi. End of the trip.
The program is subject to change depending on the conditions on the ground and the fitness of the participants.
Hotels and Huts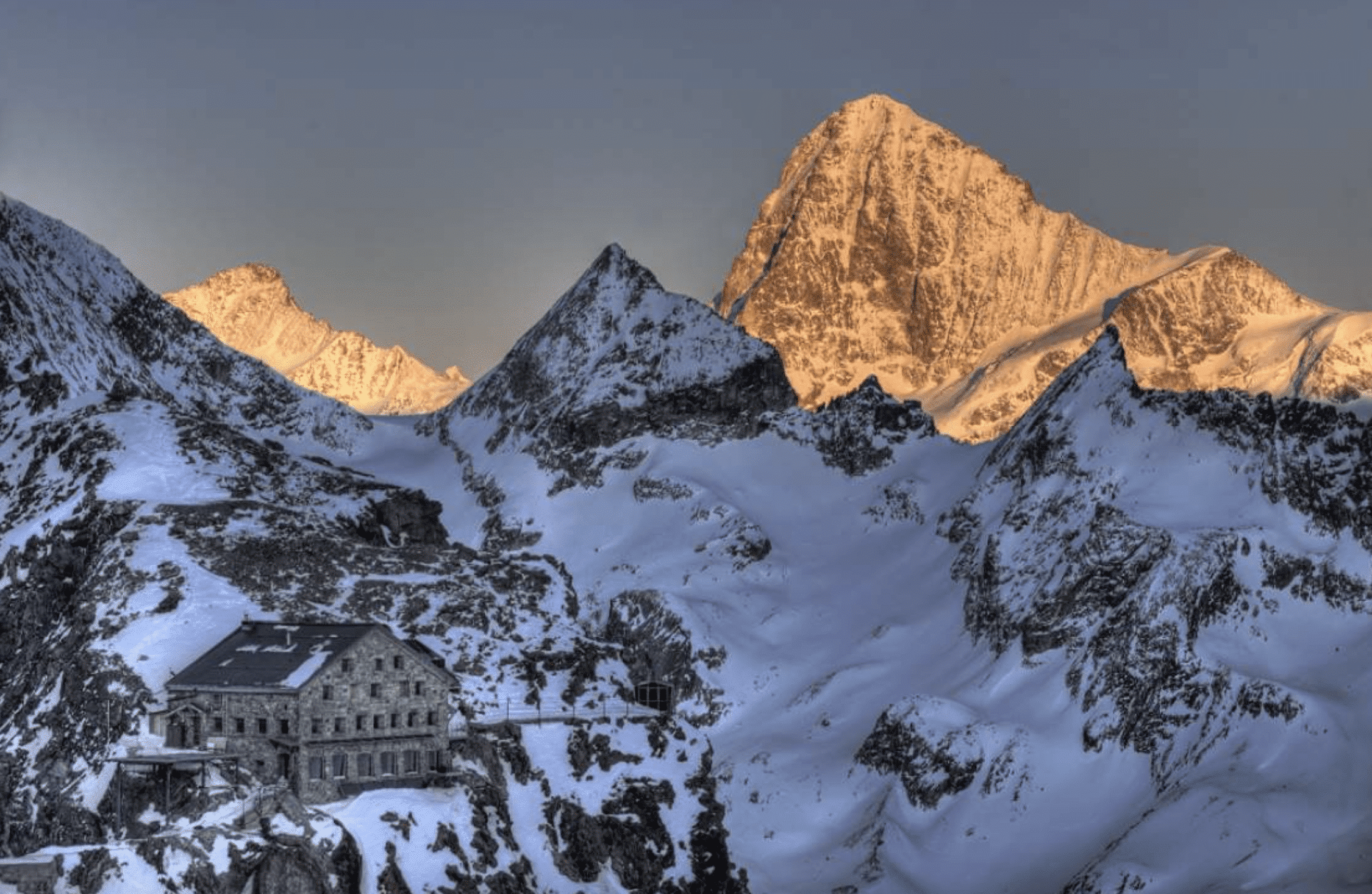 Hotels and Huts
LE CHAMONIARD VOLANT HOSTEL
Le Chamoniard Volant hostel has existed since 1929 and the place has been welcoming climbers for around 90 years now. In recent years, several renovations have been carried out to improve comfort. Night in a room of 4, 6 or 8 people.
MOUNTAIN HUT / CABANES
Mountain hut in Switzerland are called "cabanes". The rooms are dormitories. The meals are plentiful and varied. The service is identical to classic mountain huts (there is no shower). Every morning you can fill your thermos with hot tea for the day.
Included
9V GUIDES
Full-time supervision for 6/7 people by a fully qualified UIAGM / IFMGA mountain guide.
LIFT PASSES
1 day at the Grands-Montet.
ACCOMMODATION
6 nights in dormitories :
-1 night in half-board at Le Chamoniard Volant hostel.
-5 nights full board (drinks not included) in Swiss cabanes, equivalent to classic alpine mountain hut.
TAXI
Transport of skiers to Bourg Saint Pierre and for the return from Zermatt to Chamonix.
SAFETY GEAR
You don't have the famous avalanche beacon, shovel, probe triptych? We can lend it to you. If you have your own safety equipment bring it!
RESCUE EQUIPMENT
Each guide will have all that is necessary for the safety of his group in his rucksack.
Not included
RESCUE INSURANCE
Compulsory for all trips. A good contract covers mountain rescue, transport to the nearest hospital and repatriation. Check your personal insurance contract which may include this risk.
TRIP INSURANCE
Considering the costs incurred, this insurance is strongly recommended. A personal contract can be subscribed individually. The cancellation to be covered may be the cancellation of the stay or the refund of the remainder of the stay in the event of an interruption. Check your credit card policy. Payment by credit card, Visa Premier or Gold MasterCard, may provide cancellation insurance.
TOURING SKIS
For this ski tour, the 9V guides recommend and use skis of 85 mm under the foot, equipped with light touring bindings, climbing skins in good condition and ski crampons for hard snow.
GLACIER SKIING GEAR
Bring in good condition sealskins, ski crampons for hard snow, harness and crampons.
DRINKS
Provide cash for drinks in the cabanes (mountain hut).
SNACKS AND ENERGY BARS
Bring your favorite dried fruits, cereal bars, energy bars to keep fit during the climbs.