NEVADOS DE CHILLAN - ANTUCO - VILLARICA - LLAIMA - LONQUIMAY - MOCHO-CHOSHUENCO - OSORNO
Explore the wild volcanoes of the Bio-Bio, Araucania, Rios and Lagos regions in Chile on skis.
In the middle of the magnificent Araucarias forests, endemic trees that inhabit the foot of volcanoes, small family ski resorts allow easy and quick access to snow. Skinning around 1300 mts vertical per day will allow us to climb 5 or 6 of these volcanoes depending on the weather conditions and the group's desire.
Quality spring snow generally covers the slopes of volcanoes and there can also be good powder snow depending on weather conditions at the time. Skiing on a volcano is characterized by relatively steep slopes at the top, getting more gentle as you come closer to the bottom. The conical shape of the volcanoes makes it easy to optimize downhill skiing by turning with the sun to always find super quality snow.
What you will do during your trip
You will be ski touring in the heart of an exotic setting made of active volcanoes, giant lakes and spectacular trees such as the Araucarias.
Carrying out ascents and descentsof 1,500 mts of vertical dropall alone.

Sleeping two nights in a tree houseof the Huilo-Huilo nature reserve.
Perhapsseeing the bubbling lava at the bottom of the Villarica crater.
Program
DAY 1: Reception at Santiago International Airport (SCL)
Meet your guide at Santiago airport - Transfer by 4x4 to Malalcahuello. Installation at the hotel, checking of everyone's equipment and distribution of the safety equipment provided. Overnight at Hotel Suizandina.
DAY 2: Ski Lonquimay 2865 mts high
This volcano is ideal for a warm-up. This first ascent promises an epic trip, you can even ski inside the crater! Overnight at Hotel Suizandina. Elevation: + 700 mts, - 1300 mts.
DAY 3: Reserve day
Bath at the thermal baths of Malalcahuello. Overnight at Hotel Suizandina.
DAY 4: Ski Llaima 3125 mts high
Ascent of the volcano from Conguillo National Park in a wild and magnificent setting. Night at the Suizandina hotel. Elevation + 2000 mts, - 2000 mts - Possibility to access the volcano through Las Araucarias ski resort, in this case the skinning up is shorter. Elevation : +1200 mts, - 1700 mts.
DAY 5: Transfer
Road trip to Pucon and the Great Lakes region. Overnight at Geronimo hotel.
DAY 6: Ski Villarica 2850 m high
Ascent of the most famous volcano in the region. Villarica is one of the 4 volcanoes in the world with a magma chamber visible from its crater ...
Overnight at Geronimo hotel. Elevation: + 1400 mts, - 1400 mts.
DAY 7: Reserve day for the ascent of Villarica.
Overnight at Geronimo hotel.
DAY 8: Transfer
Road trip to the Huilo-huilo biological reserve. Halfway, we'll stop at the incredible "Termas Geometricas" for some well-deserved relaxation! Night in Huilo-Huilo's tree house.
DAY 9: Ski Mocho Choschuenco 2450 m high
Ascent of this strangely shaped volcano reminiscent of an U.FO. Night in a tree house in the Huilo-Huilo biological reserve. Elevation: +800 mts, -1200 mts.
DAY 10: Transfer
Road trip back to the north and Termas de Chillan ski resort. Overnight in EcoBox Andino cabañas.
DAY 11: Aguas Caliente - Valle Hermoso
From the top of the ski lifts, a short hike will take us to the wild valley where the hot river is flowing. An unforgettable experience ! Overnight in EcoBox Andino cabañas. Elevation: +400 mts, - 1000 mts.
DAY 12: Ski Volcan Nuevo 3100 mts high
From the top of the ski lifts, fairly short ascent to the top of the Nuevo volcano at 3000 mts high overlooking the Bio-Bio region. Overnight in EcoBox Andino cabañas. Elevation: +800 mts, -1900 mts
DAY13 : Transfer
Road back to Santiago de Chile, evening in the city. Overnight at the Best Western hotel.
DAY 14: End of the trip
Last breakfast on board and transfer to the airport.
Le programme est susceptible d'être modifié en fonction des conditions sur le terrain et de la forme des participants.
Hotels and Huts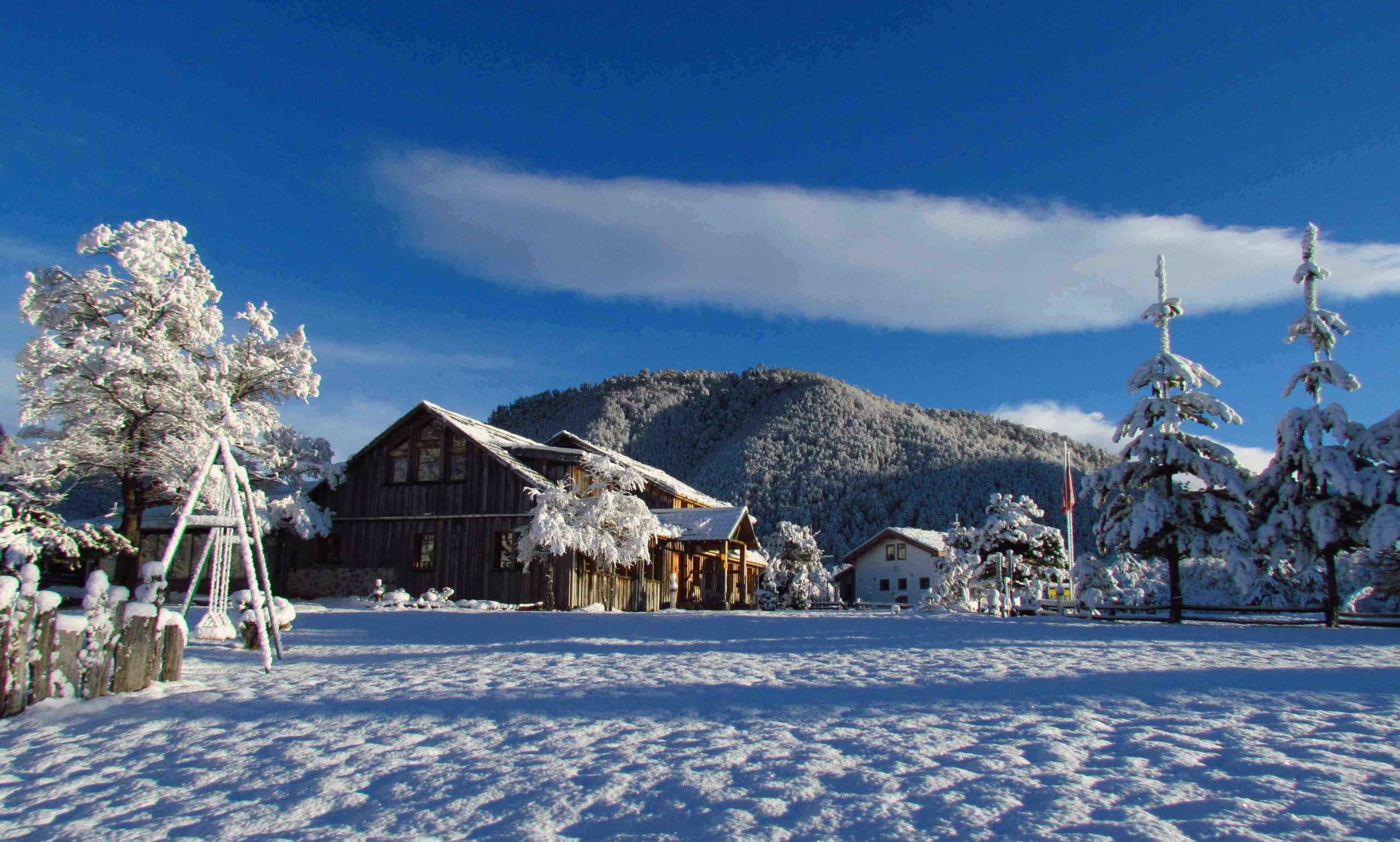 Hotels and Huts
After many trips in the region, we chose four hotels offering appreciable comfort after a good day skiing. Change of scenery is also part of the game with two nights in the treehouse of the Huilo-huilo biological reserve.
HOTEL SUIZANDINA : In the middle of the Malalcahuello valley, the Suizandina hotel, run by a Chilo-Swiss couple, is perfectly located for quick access to 3 of the volcanoes on our program. Bedrooms are all in wood with bathroom, very clean.
HOSTERIA GERONIMO : For several years now, we have been stopping off in this small hotel well located 2 steps from the center of Pucon in a quiet area. Joana's welcome is warm and the rooms, although small, are immaculate.
HUILO HUILO TREE HOUSES : Located just above the "crianca" deer reserve, the tree houses of the Huilo-Huilo biological reserve are very small but comfortable and well heated.
CABAÑAS ECOBOX ANDINO : The cabañas are located in the valley of Las Trancas. They are comfortable and perfectly located to enjoy the lively bars and restaurants of the area.
BEST WESTERN LOS ESPANOLES : Quietly located in the Providencia district, our hotel is close to restaurants and bars where we can celebrate the end of our trip.
Included
9V GUIDES
Full-time supervision by a fully certified UIAGM / IFMGA mountain guide.
ACCOMMODATION
13 nights in comfortable B&B hotels on a double room basis.
-4 nights at the Suizandina hotel with buffet breakfast.
-3 nights at the Geronimo hotel with breakfast.
-2 nights in the Huilo-Huilo biological reserve's tree houses.
-3 nights in EcoBox Andino cabañas with breakfast.
TRANSPORTATION
All transportation during the safari for participants and luggage. Transportation will be by 4 wheel drive pick-up truck driven by your guide.
SAFETY GEAR
You don't have the famous avalanche beacon, shovel, probe triptych? We can lend it to you. If you have your own safety equipment bring it!
RESCUE EQUIPMENT
Each guide will have all that is necessary for the safety of his group in his rucksack.
Not included
RESCUE INSURANCE
Compulsory for all trips. A good contract covers mountain rescue, transport to the nearest hospital and repatriation. Check your personal insurance contract which may include this risk.
TRIP INSURANCE
Considering the costs incurred, this insurance is strongly recommended. A personal contract can be subscribed individually. The cancellation to be covered may be the cancellation of the stay or the refund of the remainder of the stay in the event of an interruption. Check your credit card policy. Payment by credit card, Visa Premier or Gold MasterCard, may provide cancellation insurance.
LUNCHS AND DINNERS
It is convenient to make a kitty for meals and drinks.
TOURING SKIS
For this ski touring trip to Chile, 9V guides recommend and use skis that are 85mm wide at the waist, fitted with light touring bindings, good sealskins and ski crampons hard snow.
PLANE TICKETS
All plane tickets are at your expense.
ENTRY TO THE NATURAL HOTSPRINGS
This region has many natural hot springs. An evening or two in natural hot springs by the river is a perfect treatment for recovering from a good day ski touring!