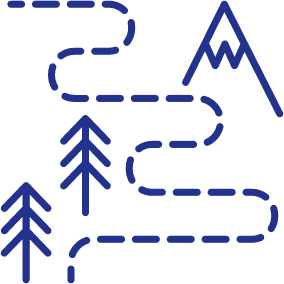 Our off-piste ski trips allow you to discover different ski areas every day. We access powder snow by combining the use of ski lifts with slackcountry* when necessary.
If it has just snowed and it is possible to ski powder snow without having to resort to skin up, our priority is to make traces while doing as much descent as possible.
When it has not snowed for several days or even weeks and the classical off-piste itineraries are well-tracked out, walking a little allows us to go and find slopes where there is room to make our own tracks.
*Slackcountry skiing is a combo of freeride skiing and a short walk on foot or with sealskin from the top of the ski lifts. The goal is to ski slopes that are still untracked.
We offer three different types of ski safari
Powder skiing safari tour: From valley to valley, far from the crowds, we explore all the off-piste / backcountry itineraries of a region by stopping in different villages (hotels, refuges). Luggage transfer is provided by road while we are skiing.
Road trip : Your guide takes care of everything. He drives on the road through a country and guides you from mountain to mountain in order to ski as many different spots as possible during a "long-distance" trip.
Powder skiing star safari:From a fixed base (hotel), we radiate on the surrounding ski areas in search of untracked powder snow. A night elsewhere in a refuge allows you to go further.