CERVINIA - ZERMATT - CHAMPOLUC - GRESSONEY - ALAGNA
On the Italian side of the Monte Rosa Massif, each valley has its own ski resorts, so it is possible to go from one valley to the other thanks to the ski lifts that can take us up to 3820 mts of altitude.
This vast region offers versatile skiing with countless itineraries at all altitudes. Depending on weather and snow conditions, we will ski up high on glaciers or we will stay below the tree line.
The imposing peaks of this massif all culminate above 4000 mts, the Matterhorn, Breithorn, Castor, Lyskamm, Polux etc.. Some of these peaks can be reached with a short hike using sealskins or by helicopter (at an additional cost), for spectacular descents over 2400 meters of vertical drop.
From Valtournenche, we will ski some of the large Swiss glaciers towards Zermatt. This exceptional day will allow us to ski around the majestic Matterhorn.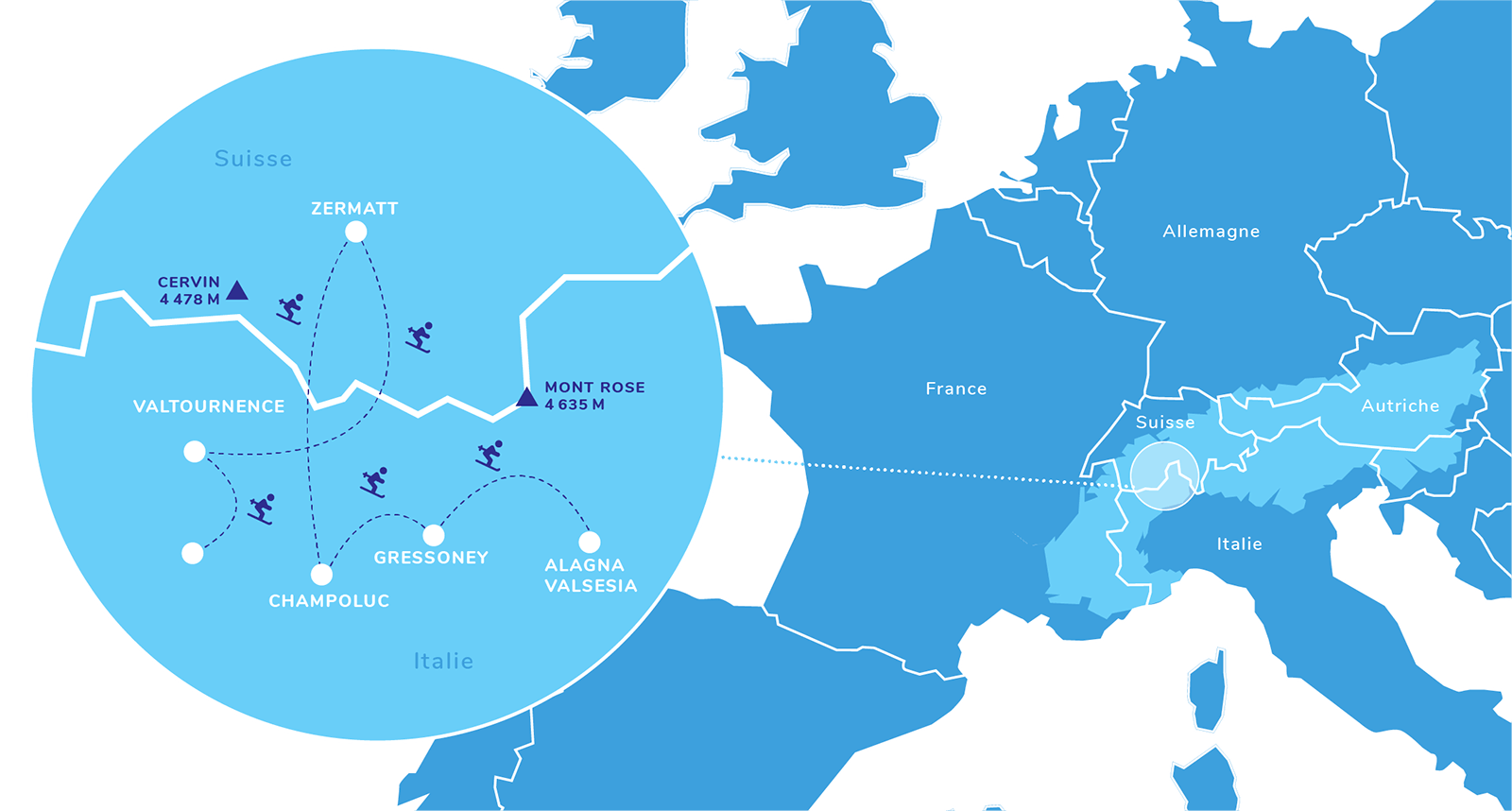 What you will do during your trip
You will ski off-piste for six days, discovering thewild mountains of the Monte Rosa massif and its surroundings.
Performing descents of1,500 to 2,000 meters of vertical drop in virgin snow and cross the most beautiful summits and passes which lead to new valleys with typical villages.
Sleeping in two cozy huts well located in altitude.
Having a drink with the locals and tasting every day their culinary specialtiesmade with local products.
Frequently asked questions
Program
DAY 1: Meet at the Hotel Des Roses in Antey-Saint-André
Participants and guides meet at the bar at 6 PM. Verification of the individual equipment and distribution of the group equipment when needed. The first and last nights of this ski safari will be spent in Hotel des Roses in Antey-St-André. Cars will be left at the hotel until our return at the end of the week.
DAY 2: Valtournenche
Off-piste skiing in the area of Chamois, village with no access by road. Short climbs with skins reward us with fantastic descents. Beacon training and off piste skiing in the area of Chamois. At lunch, grand 9V picnic. The last run of the day will take us down to Cheneil, a secret snowbound village, that can be reached only on skis in winter. No luggage transport for this night. An unforgettable evening will be spent in the historical and picturesque Albergo Panorama, a high mountain-hut.
DAY 3: Valtournenche – Val d'Ayas
We leave Cheneil on ski in the morning. Exploration of Valtournenche and Cervinia off-piste skiing areas. Last descent from Gobba di Rollin 3750 mts, Testa Grigia 3300 mts, or Cime Blanche 3100 mts, to Saint Jacques 1689 mts in the Val d'Ayas, second valley. Night in Hotel Genzianella, where our luggage has been transported.
DAY 4: Val d'Ayas and Zermatt
Skiing in the Val d'Ayas area. If weather the seems perfect, be ready for the grand tour via Zermatt. Second night in Hotel Genzianella.
DAY 5: Val d'Ayas to Gressoney
Lifts to Bettaforca. ½ hour climb to Punta Bettolina, descent to Stafal in Val Di Gressoney, the third valley. A glimpse of the immense Gressoney area. Night in Rifugio Gabiet, above the pistes of Gressoney. Our luggage will have been transported there by bus, cable car and snowmobile.
DAY 6: Gressoney to Valsesia
Discovery of the immense off-piste area of Alagna in the Valsesia (fourth valley) via the Punta Indren lifts, 3600 m and large and wild valleys offering over 2400 mts of vertical drop. Possibility of sealskin variants or helicopter drop-offs. Second night in Rifugio Gabiet.
DAY 7: Alagna – Valtournenche
If we have not yet managed to make the big tour via Zermatt, this is our last chance! In that case, we ski down to Valtournenche at the end of the day and get the bus back to Hotel des Roses, where our luggage will have been transported. Another possibility is landing on La Roisetta to ski down to Valtournenche. Otherwise, another day of grandiose skiing in the Gressoney area awaits us. Transfer of skiers + bagage at the end of the day, (1¾ hour) back to Hotel des Roses, where we spend the last night.
DAY 8: End of your ski safari after breakfast
The program is subject to change depending on the conditions on the ground and the fitness of the participants.
Hotels and Huts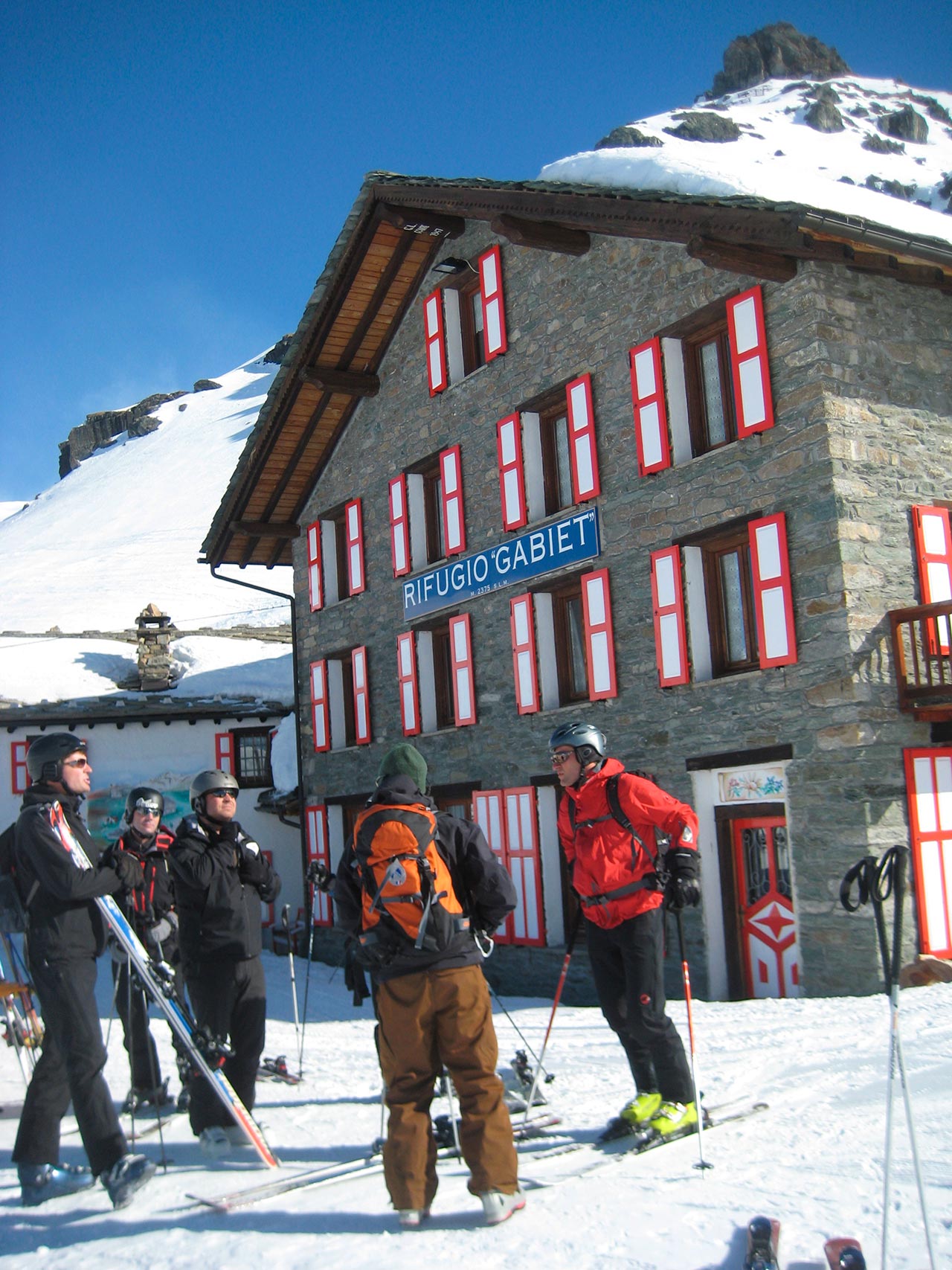 Hotels and Huts
We have chosen cozy hotels or lodges in each valley, which will allow you to have an authentic mountain experience. Each place of stay is run by a local family that has played its part in the history of the valley. The atmosphere will be warm and friendly, yet the comfort will be, like in olden times, a little rustic. However, the home cooking, often done by the grandmother and other members of the family, is exquisite! Each dinner will be sort of a feast, well deserved after a tough day in the mountains. As we will be staying in 4 different places, one night without baggage transfer, be sure to pack what you need during the week in one bag, which is light and practical.
HOTEL DES ROSES located at Antey-St-André: very practical for the day of arrival and departure, on the road to Valtournenche. Comfortable rooms for 2 or 3 persons with shower and toilet. Excellent dinner.
ALBERGO PANORAMA in Cheneil, a preserved hamlet reached on skis in the winter. At the origin of this hotel, was Sir Whimper himself, explaining to the farmers that they should have rooms to receive mountaineers and tourists. The present owner is a mountain guide, who runs the hotel with his family and has even bought a snow cat to take skiers up to the Chamois ski area. Bathrooms and toilets inside the house; some of the rooms have a wash basin. 2 to 3 persons per room.
HOTEL GENZIANELLA Located at Saint Jacques en Val d'Ayas: held for generations by a Walser family (in fact this end of valley at the foot of the 4000s was populated by German immigrants called the "Walser"), who have preserved their traditions and their dialect through centuries. The highlight of this hotel is its very fine restaurant with local specialities. Rooms for 2 or 3 persons with shower and toilet.
GABIET MOUNTAIN HUT the fun atmosphere of a mountain hut with the advantage of commodities like a big bar for after-skiing, a cozy video room with fireplace, spacious hot showers in a unisex washroom with one long sink where you just have push to get space… The rooms are tiny with 2 to 6 bunk beds covered with a sheet and puffy quilt. We arrive at the Rifugio in the evening when all the other skiers have gone down to the valley. In the morning we put on our skis in front of the door to glide away before any one is up from the valley…
Included
9V GUIDES
Full time supervision for 6/7 people by a high mountain guide UIAGM / IFMGA specialist in Monte Rosa.
LIFT PASSES
6 days ski pass for all the ski resorts we cross.
ACCOMMODATION
Half-board for 7 nights.
Half-board for 2 nights in hotel des Roses, 2 or 3 persons per room with shower or bath.
-Half-board for 1 nights at Albergo Panorama 2 or 3 persons per room with shower or bath.
Half-board for 2 nights in hotel Genzianella, 2 or 3 persons per room with shower or bath.
Half-board for 2 nights at Rifugio Gabiet. It is a wonderful lodge above the pistes of Gressoney, but is not a hotel.
TRANSPORTATION
All transportation during the safari for participants and luggage.
SAFETY GEAR
You don't have the famous avalanche beacon, shovel, probe triptych? We can lend it to you. If you have your own safety equipment bring it!
RESCUE EQUIPMENT
Each guide will have all that is necessary for the safety of his group in his rucksack.
Not included
RESCUE INSURANCE
Compulsory for all trips. A good contract covers mountain rescue, transport to the nearest hospital and repatriation. Check your personal insurance contract which may include this risk.
TRIP INSURANCE
Considering the costs incurred, this insurance is strongly recommended. A personal contract can be subscribed individually. The cancellation to be covered may be the cancellation of the stay or the refund of the remainder of the stay in the event of an interruption. Check your credit card policy. Payment by credit card, Visa Premier or Gold MasterCard, may provide cancellation insurance.
SINGLE ROOM
For snorers or simply to be more comfortable!
LUNCHES
Often group members will pool their money for lunch.
DRINKS
Often group members will pool their money for wine at the dinner table.
BACKCOUNTRY / SIDECOUNTRY SKIS
For this powder skiing safari in Monte Rosa, the 9V guides recommend and use skis of 95 mm wide under the foot, equipped with touring bindings, climbing skins and ski crampons for hard snow.
AVALANCHE AIR BAG RUCKSACK
A sophisticated and proven system that aims to prevent burial in an avalanche.
HELISKIING
1 drop off by helicopter at the "Col du Lys" at an altitude of 4200 meters. From 200€. (final price according to the number of people).