fernie - whitewater - red mountain - Revelstoke - Rodgers Pass - kicking horse - banff
Ski the Selkirks, Purcell and Monashee between British Columbia and Alberta.
In Canada in the Kootenay region, skirting the Canadian Rockies straddling British Columbia and Alberta, the Powder Highway connects the snowiest ski resorts on the North American continent.
Following this breadcrumb trail, we will cover 1300 km, along the valleys that give access to the main peaks of the Monashees, Selkirk and Purcell. These three small massifs are mythical for all those who love off-piste skiing, ski touring, heli-skiing, cat-skiing and for all those who love deep snow.
We will stop at Fernie and its 11 meters of snow per winter. in Nelson, the coolest town on the Powder Highway conveniently located right at the base of Whitewater and not far from Red Mountain both ski esort renowned for their steep slopes . We will take a break in Revelstoke, the newest resort in the area, which offers off-piste catskiing and heli-skiing in addition to backcountry skiing. We will also ski at Kicking Horse, self-proclaimed capital of champagne powder. On our way, Rodgers Pass and Lake Louise also offer us a great opportunity for one or more unforgettable backcountry outings.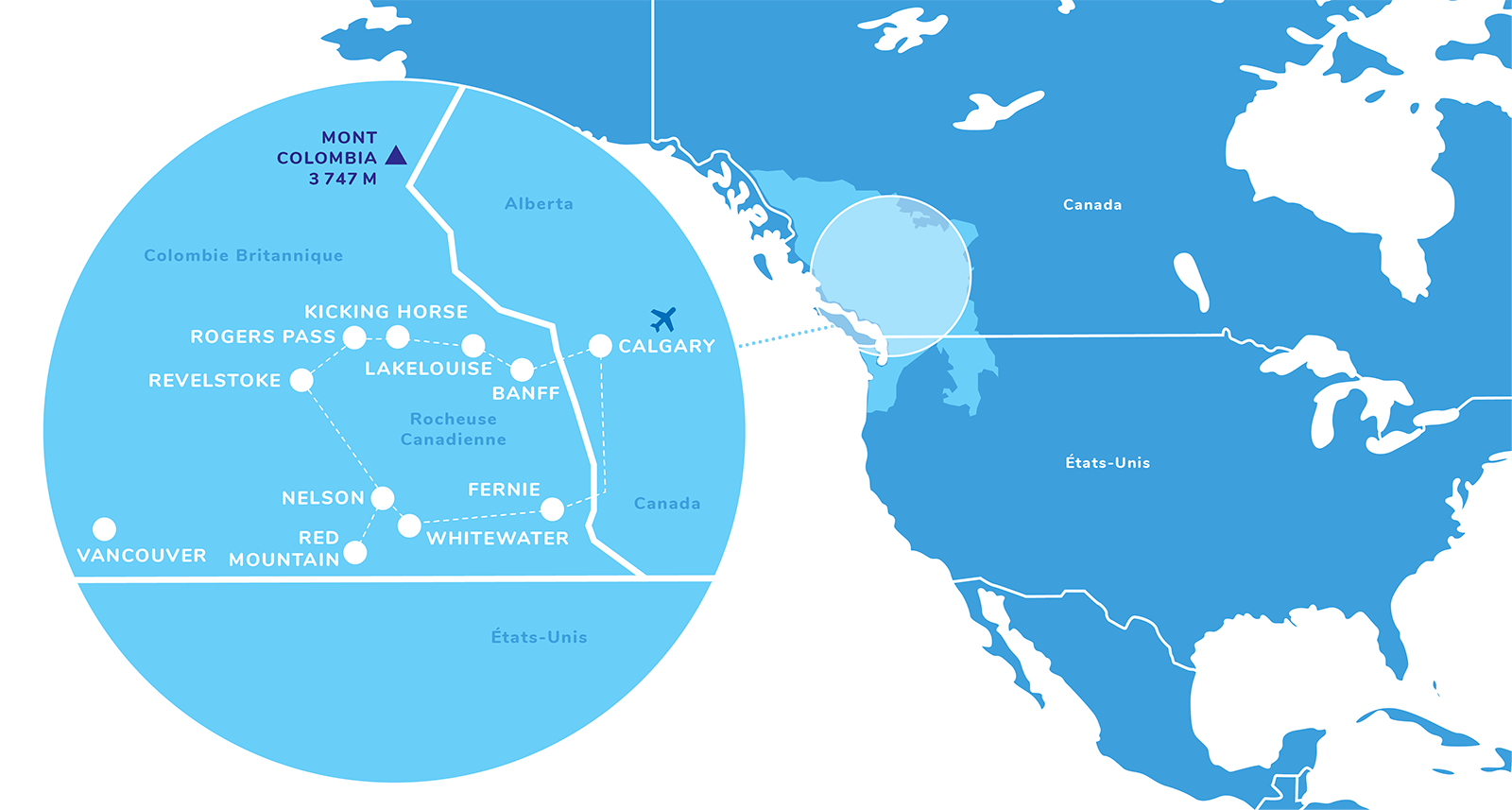 What you will do during your trip
You will do 8 days of off-piste skiing, discovering the rugged mountains of Western Canada preserved by the Purcell Nature Reserve and the Revelstoke and Banff National Parks.
Achieving descents from 700 to 1700 meters in virgin snow, alternating steep slopes and pillows, alpine bowls. and large forests with ideally spaced trees …
Having an occasional drink in Nelson, an iconic hippie town in the Kootenay region. The city center is teeming with small restaurants, cafes, independent shops and art galleries.
Frequently asked questions
Program
DAY 1: Meet at Calgary International Airport
Arrival at Calgary Airport. Meeting with the guide. Transfer in our 4 wheel drive pick-up truck to Fernie. Overnight at Fernie.
DAY 2 : Fernie
Warm-up and discovery of the Fernie ski area, a ski resort renowned for receiving impressive amounts of snow (11mts per year on average). Overnight at Fernie.
DAY 3 : Fernie – Nelson
Ski at Curry bowl one of Fernie's classics. When skiing is over, we drive to Nelson our next stop. Overnight at Nelson.
DAY 4: Whitewater
Full day skiing at Whitewater ski area renowned for its in-bound steep runs and gnarly backcountry terrain. A short hike allow you to reach the peaks overlooking the ski area. Overnight at Nelson.
DAY 5: Red Mountain
After a short drive, ski to Red Mountain, a great ski resort that offers a spectacular playground. Here again, a short skinning will allow us to ski wild places and long descent all the way to through a unique powder pillow! Overnight at Nelson.
DAY 6: Whitewater
Full day ski in Whitewater then at the end of the day drive to Revelstoke. Overnight at Revelstoke.
DAY7: Revelstoke
You will ski in Revelstoke, the region's smost crazy ski resort. Everything is possible here, long run as in the Alps, heliskiing, catskiing, hiking … Overnight at Revelstoke.
DAY 8: Revelstoke
Another day in Revelstoke to take advantage of this exceptional ski area, then drive to Golden. Overnight at Golden.
DAY 9: Kicking horse
Full day skiing at Kicking Horse, a small ski resort which host the Freeride World Tour every year and which is particularly famous for its steep slopes. At the end of the day, drive to Banff for the last evening. Overnight at Banff.
DAY 10: End of the trip
Breakfast, visit of Banff and drive to the airport. End of the trip.
* Possibility of adding one or two days, ask us for the program.
The program is subject to change depending on the conditions on the ground and the fitness of the participants.
Hotels and Huts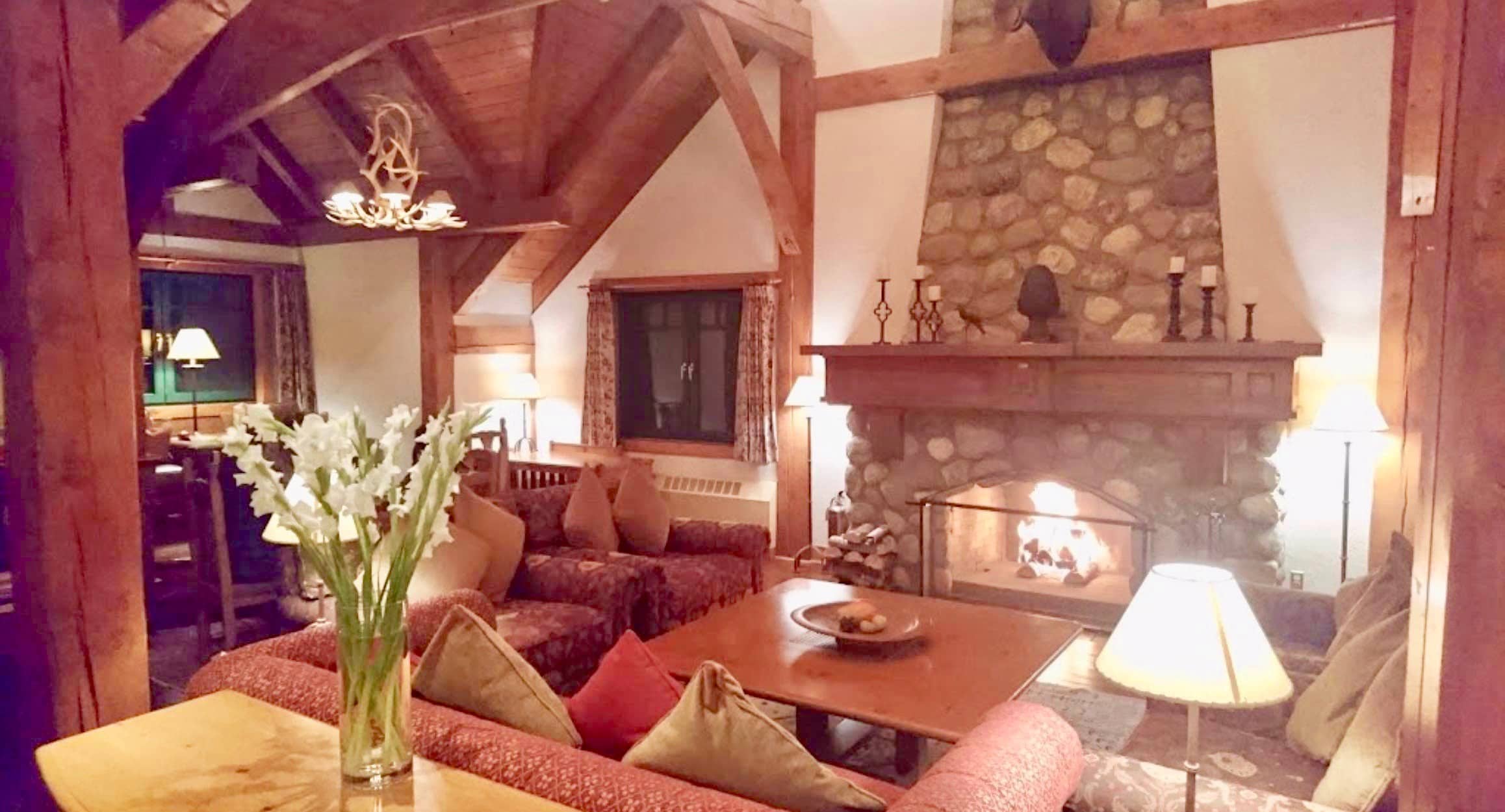 Hotels and Huts
We have chosen comfortable accommodation at each of the 5 stages of our tour. To cope with hotel changes, pack practical and light luggage!
HUME HOTEL AND SPA Built in 1898 and renovated many times since, the Hume is an old lady who has evolved with the times while retaining a -je ne sais quoi- of yesteryear charm. We especially love drinking a local craft beer and having a bite to eat while listening to live jazz in the "Library" the hotel's lounge.
BEST WESTERN A guarantee of quality and comfort, the brand, which has a strong presence throughout North America, is ideal for welcoming us after a good day of skiing. Swimming pool and jacuzzi are present in each hotel.
Included
9V GUIDES
Full-time supervision for 6 people by a IFMGA mountain guide or a fully qualified ski guide specialist of the region.
LIFT PASSES
6 days ski pass for all the ski resorts we cross.
ACCOMMODATION
9 nights in comfortable B&B hotels on a double room basis.
-2 nights at BW plus Fernie Mountain Lodge with buffet breakfast.
-3 nights at the Hume hotel and spa with buffet breakfast.
-2 nights at the BW plus Revelstoke hotel with buffet breakfast.
-1 night BW Mountainview Inn in Golden with buffet breakfast.
-1 night at BW plus Siding 29 Lodge in Banff with buffet breakfast.
TRANSPORTATION
All transportation during the safari for participants and luggage. Transportation will be by 4 wheel drive pick-up truck driven by your guide.
One or more participants will also be required to drive one of the vehicles.
SAFETY GEAR
You don't have the famous avalanche beacon, shovel, probe triptych? We can lend it to you. If you have your own safety equipment bring it!
RESCUE EQUIPMENT
Each guide will have all that is necessary for the safety of his group in his rucksack.
Not included
RESCUE INSURANCE
Compulsory for all trips. A good contract covers mountain rescue, transport to the nearest hospital and repatriation. Check your personal insurance contract which may include this risk.
TRIP INSURANCE
Considering the costs incurred, this insurance is strongly recommended. A personal contract can be subscribed individually. The cancellation to be covered may be the cancellation of the stay or the refund of the remainder of the stay in the event of an interruption. Check your credit card policy. Payment by credit card, Visa Premier or Gold MasterCard, may provide cancellation insurance.
SINGLE ROOM
For snorers or simply to be more comfortable!
LUNCHS AND DINNERS
Often group members will pool their money for lunch.
BACKCOUNTRY / SIDECOUNTRY SKIS
For this powder skiing trip in Canada, you absolutely need skis at least 100mm wide underfoot, equipped with touring bindings, climbing skins and ski crampons for hard snow.
AVALANCHE AIR BAG RUCKSACK
A sophisticated and proven system that aims to prevent burial in an avalanche.
PLANE TICKETS
All plane tickets are at your expense.
VISA
Check your passport before applying for a visa for Canada.
HELISKIING AND CATSKIING
Our tour takes place in the motherland of heliskiing and catskiing.