BARILOCHE - CERRO CATEDRAL - EL CHALTEN - FITZ ROY - PERITO MORENO GLACIER
Explore on skis the virgin and wild routes of Los Glaciares and Nahuel Huapi National Parks in Patagonia Argentina.
The first part of the trip takes place on the shores of Lake Nahuel Huapi, at the foot of the Cordillera, a few kilometers from the Chilean border in the Seven Lakes region. Welcome to San Carlos de Bariloche, the historic capital of Patagonia. Lakes, mountains, pine forests, wooden chalets, fondues and chocolates await you… Skiing with a bird's eye view of the lake is fantastic and the snow is often powdery. 2 nights spent at the Frey mountain refuge easily accessible from Cerro Catedral, allows to explore the many couloirs and needles so typical of this beautiful part of the mountain …
The second part of this trip takes place 1,500 kilometers further south, on the edge of the third largest glacial expanse on the planet. Based in El Chalten, we will be on the outskirts of Los Glaciares National Park and at the foot of the Fitz Roy and Cerro Torre. These granite giants emerge from the third largest glacial expanse on the planet. In the heart of this grandiose setting, numerous itineraries are ideal for ski touring. Depending on the weather and the group's wishes, we can also ski the Magallanes peninsula and its belvedere overlooking the famous Perito Moreno glacier …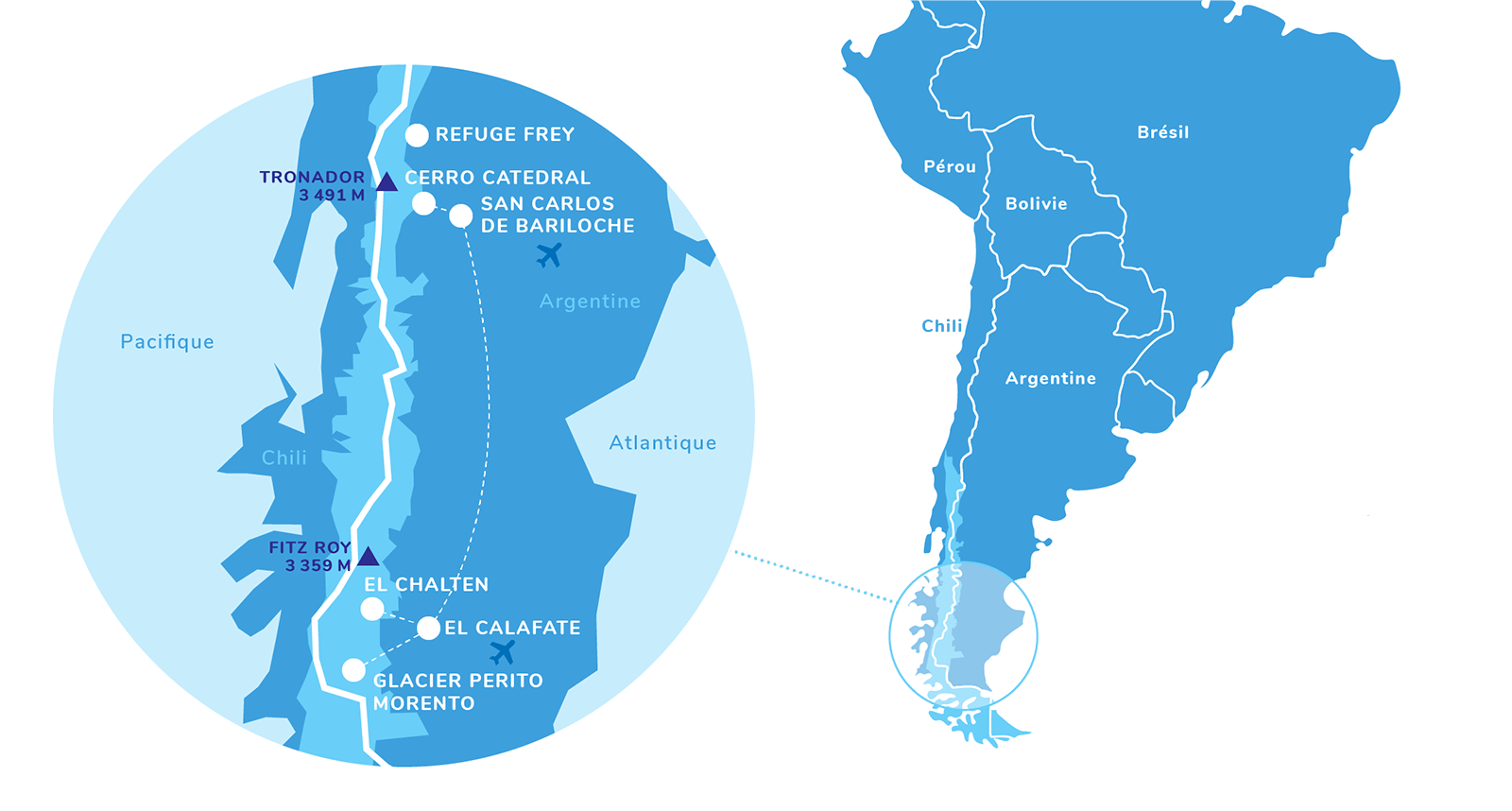 What you will do during your trip
Ten days of ski touring, discovering the wild mountains of Argentina's National Parks.
Realizing descents of 800 to 1500 metersof vertical dropin breathtaking scenery.
Sleeping in a tentunder the stars of the southern hemisphere.
Devouring assados, delicious Argentinian barbecues, accompanied by a glass of Malbec for the amateurs.
Frequently asked questions
Program
DAY 1: Arrival at Buenos Aires (EZE) International Airport. Domestic flight to San Carlos de Bariloche (BRC) .
Upon arrival in San Carlos de Bariloche, meet the guide and get a minibus transfer to the hotel. Checking everyone's equipment and distribution of the safety equipment provided. Overnight at Cabanas Ecobox andino.
Day 2: Ski Cerro Catedral
Warm up day. Discover the scenic off-piste itineraries easy to access from the ski resort. Overnight at Cabanas Ecobox andino.
Day 3: Frey or Jakob mountain hut
Departure from the Cerro Catedral ski area then hike to the refuge. Overnight in a mountain hut.
DAY 4: Mountain hut – Bariloche
Opposite the refuge, an impressive mountain circus provides access to numerous couloirs and needles. We will ski some of these before heading back to Bariloche. Overnight at hotel Sol del Nahuel
DAY 5: Bariloche – El Calafate
After a 1.5 hour flight over the Cordillera, we will collect our car and drive to El Chalten through breathtaking landscapes. Overnight in El Chalten.
DAY 6: Cerro Mosquito
It is a magnificent belvedere offering a breathtaking view of all the Fitz Roy and Cerro Torre chains. Overnight in El Chalten.
DAY 7: Vespigniani glacier
Superb day of skiing on this glacier which preserves the powder snow well whatever the season. Overnight in El Chalten.
DAY 8: Rio Blanco base camp
Approach walk to reach the Rio Blanco base camp at the foot of Fitz Roy.
Overnight in tent.
DAY 9: Glacier de Los Tres towards Passo Superior
An extraordinary atmosphere for this day of skiing under the sign of the Fitz Roy which dominates us from the top of its 3400 mts of granite. Overnight in tent.
DAY 10: Lago de Los Tres towards Cerro Madsen
Another great day of skiing at the foot of the Fitz. After the ski return on foot to El Chalten. Overnight in El Chalten.
DAY 11: El Calafate
Transfer to El Calafate and city tour. Overnight in hostal El Glaciares.
DAY 12: Perito Moreno
A spectacular ascent above the famous Perito Moreno glacier. An unforgettable descent! Overnight in hostel El Glaciares.
DAY 13: Buenos Aires
Flight to Buenos Aires, Tango and Passo doble evening in the lively district of Palermo. Overnight at Cabanas Ecobox andino.
DAY14: End of the trip:
Breakfast and transfer to the airport.
The program is subject to change depending on the conditions on the ground and the fitness of the participants.
Hotels and Huts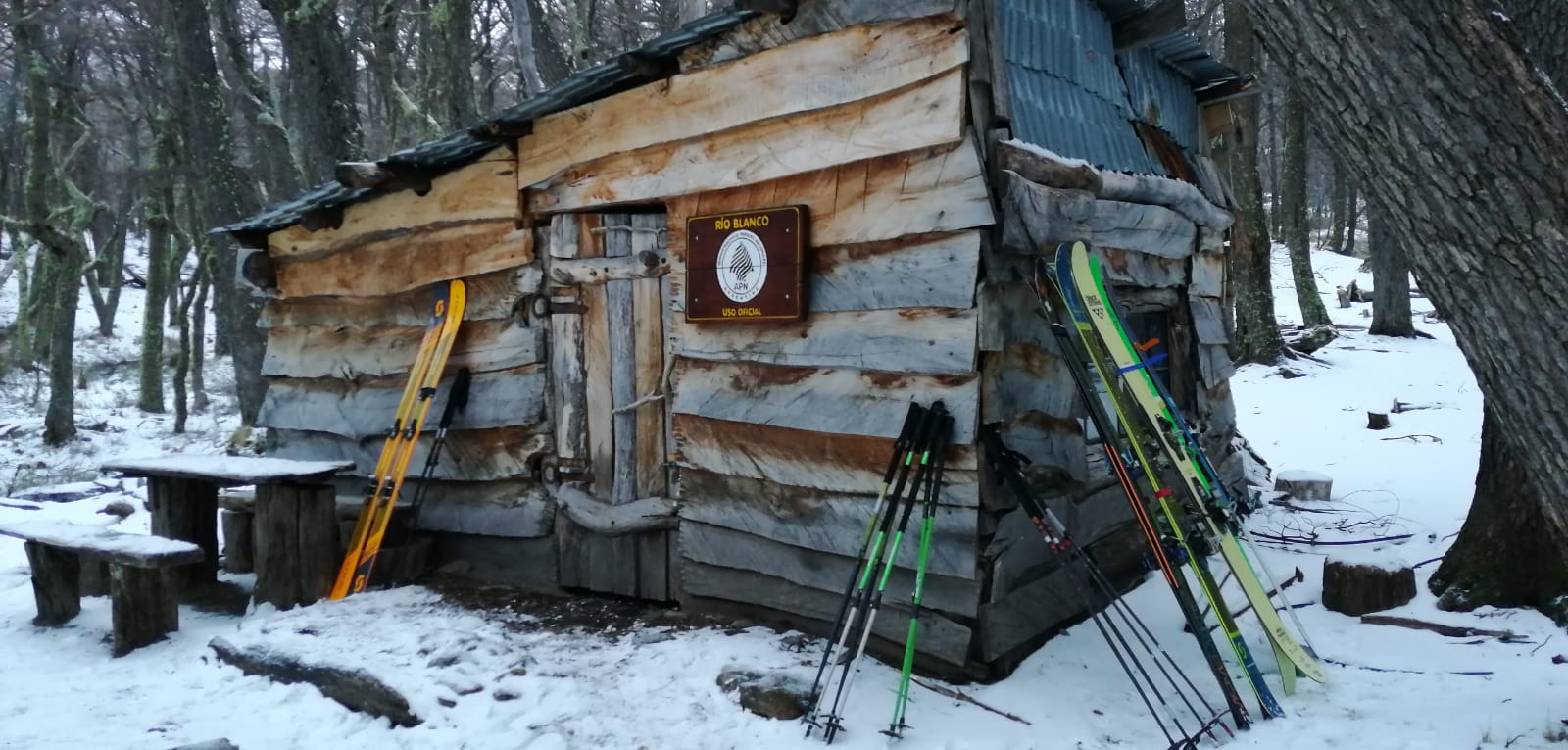 Hotels and Huts
During this unique experience we sleep turns into a hotel, hostel, mountain hut and tent. The adventure is waiting for you, but everything has been pre-arranged for the comfort of the group so that we can maximise the skiing fun factor. Portage is limited to what is strictly necessary, ie a sleeping bag for the nights in a refuge and in a tent!
HOTEL SOL DEL NAHUEL : On the shores of Lake Nahuel Huapi, this small, comfortable family hotel is ideally located in a quiet area between the ski resort and the town of San Carlos de Bariloche and not far from the best "parilla" restaurant in the region …
REFUGE FREY : On the shore of Lake Tonsec, at an altitude of 1700 meters, Refuge Frey is surrounded by needles and couloirs, each more attractive than the last. It is a legendary place for ski touring.
PATAGONIA HOSTEL : In September in El Chalten, spring arrives, the tourist season has not yet started. Our hostel offers spacious and clean rooms and plenty of hot water …
BIVOUAC EN TENT: The Bivouac area is located in a beautiful forest of Linguas, at a place called Rio Blanco, less than an hour from Lago Los Tres.
HOSTAL EL GLACIAR : Simple and efficient accommodation, a shower like at home!
HOTEL SISSIHAZ : Cozy boutique hotel well located in the district of Palermo, "donde hai el ruido". A good evening in perspective to celebrate the end of this amazing ski trip.
Included
9V GUIDES
Full-time supervision by a fully qualified UIAGM / IFMGA mountain guide.
ACCOMMODATION
13 nights :
-1 night full board at the Frey or Jakob refuge,
-10 nights in comfortable hotels and hostal on a B&B basis on a double room basis.
-2 nights camping in Rio Blanco base camp at the foot of the Fitz Roy.
BIVOUAC
Comfortable dome tents specially developed for mountain bivouacs.
TRANSPORTATION
All transportation during the safari for participants and luggage. Transportation will be by 4 wheel drive pick-up truck driven by your guide.
SAFETY GEAR
If necessary, we can lend you a beacon. (ortovox® 3+ transceiver), shovel, probe. If you have your own safety equipment bring it!
RESCUE EQUIPMENT
Each guide will have all that is necessary for the safety of his group in his rucksack.
Not included
RESCUE INSURANCE
Compulsory for all trips. A good contract covers mountain rescue, transport to the nearest hospital and repatriation. Check your personal insurance contract which may include this risk.
TRIP INSURANCE
Considering the costs incurred, this insurance is strongly recommended. A personal contract can be subscribed individually. The cancellation to be covered may be the cancellation of the stay or the refund of the remainder of the stay in the event of an interruption. Check your credit card policy. Payment by credit card, Visa Premier or Gold MasterCard, may provide cancellation insurance.
LUNCHS AND DINNERS
Often group members will pool their money for lunch.
TOURING SKIS
For this ski trip in Argentina, the 9V guides recommend and use skis with an average 85 mm under the foot, fitted with light touring bindings, good climbing skins and ski crampons for hard snow.
GLACIER SKIING GEAR
Bring in good condition climbing skins, ski crampons for hard snow, harness and crampons.
CAMPING EQUIPMENT
0 ° / -5 ° sleeping bag for the refuge and the nights in a tent and a self-inflating mattress such as Termarest® for comfort. Bring a backpack (45 liters minimum) for the day's belongings + sleeping bag.
PLANE TICKETS
All plane tickets are at your expense.