thomson pass - chugach - kenai - talkeetna - valdez
Ski the many untouched and wild routes of the Chugach.
This road trip begins and ends in Anchorage. We make a 700 km loop around south-central Alaska. Every day we ski in a different area and then spend the night in a hotel or a bed and breakfast. The itinerary listed below is based on ski touring, but mechanized options exist, including heli-skiing, catskiing and the Alyeska lifts. Note that unfortunately, there is no real off-piste skiing itineraries accessible by ski lifts in the south-central region of Alaska.
Our first base is the town of Girdwood where we stay in a comfortable bed and breakfast and ski daily at Turnagain Pass or Summit Lake in the Kenai Mountains. After Girdwood, we travel to Whittier and ferry across the wilderness coast from Prince William Sound to Valdez. We stay four nights in a hotel in Valdez, skiing each day at Thompson Pass in the Chugach. To finish this trip, we drive along the Glenn Highway, Alaska's most scenic route, crossing the imposing massifs of Chugach, Wrangell and Talkeetna. Along the way, we make a last stop to ski at Hatcher Pass in the Talkeetna before returning to Anchorage.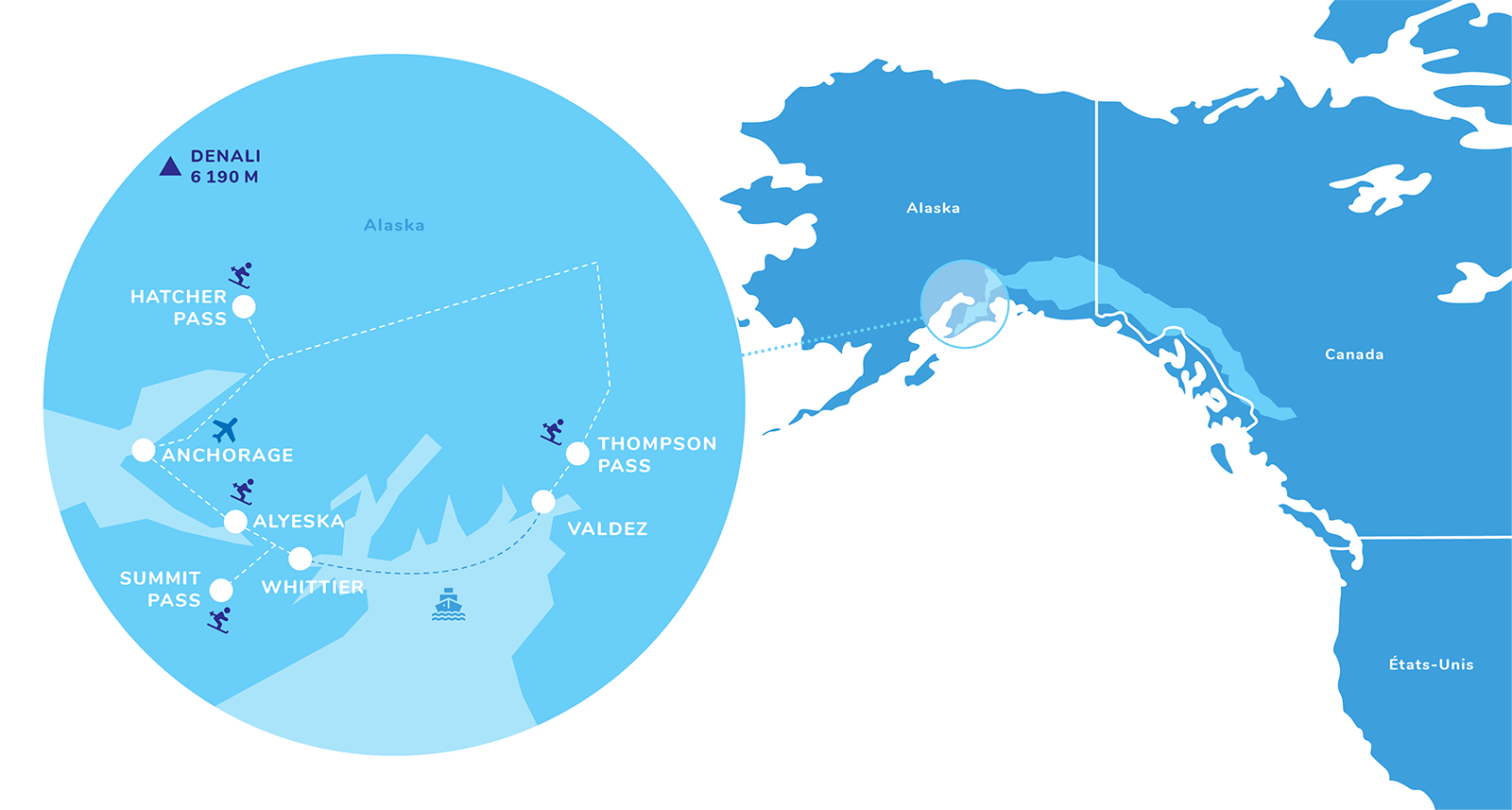 What you will do during your trip
You will ski touring for eight days, discovering the wild Alaskan mountains.
Achieving descents from 1000 to 1500 mts vertical in virgin snow in the heart of the Chugach mountain range.
Staying several nights in Valdez, a small town located at the end of a fjord leading to Prince William's Bay and its many glaciers.
Frequently asked questions
Program
DAY 1: Meet at Anchorage airport
Meeting with the guide and transfer to Girdwood. Overnight in Girdwood.
DAY 2: Ski Alyeska
Getting started in the ski area of Alyeska. Overnight in Girdwood.
DAY 3: Skiing at Turnagain pass
Right across from Girdwood, across Turnagain Inlet. Overnight in Girdwood.
DAY 4: Ski at Summit Pass
A little further than Turnagain on the Kenai peninsula we still put on our skis from the car park. Overnight in Girdwood.
DAY 5: Ferry transfer between Whittier and Valdez
This journey first includes about forty kilometers to reach the village of Whittier, followed by 5 hours by ferry to reach Valdez by crossing Prince William Sound bay and its many glaciers flowing to the water. Overnight in Valdez.
DAY 6: Ski at Thompson Pass.
Skiing mecca in Alaska, the itineraries are numerous. Overninght in Valdez.
DAY 7: Ski at Thompson Pass.
Skiing mecca in Alaska, the itineraries are numerous. Overninght in Valdez.
DAY 8: Ski at Thompson Pass.
Skiing mecca in Alaska, the itineraries are numerous. Overninght in Valdez.
DAY 9: Transfer – Ski Hatcher Pass
Transfer to Hatcher Pass via the Glenn Highway, one of the most beautiful roads in Alaska, crossing the Talkeetna Chugach Mountains. Skiing in the afternoon and night at Hatcher Pass.
DAY 10: Ski Hatcher Pass – Transfer to Anchorage
Skiing all day followed by a short drive to Anchorage. Overnight at Anchorage.
DAY 11: End of the trip
Breakfast and transfer to the airport.
The program is subject to change depending on the conditions on the ground and the fitness of the participants.
Hotels and Huts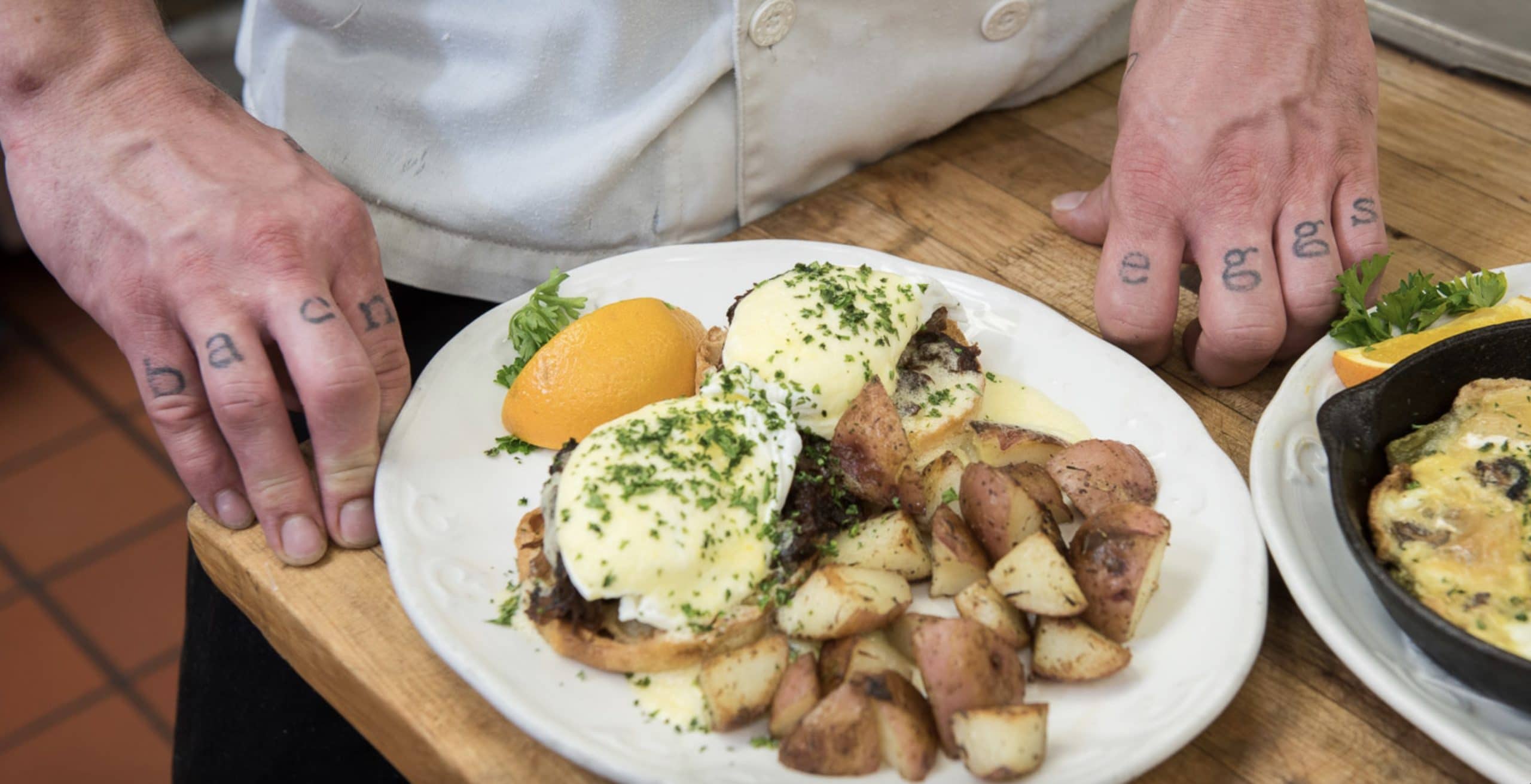 Hotels and Huts
HOTEL CARRIAGE HOUSE : Well located in Girdwood, close to the Alyeska ski lifts.
HOTEL BEST WESTERN VALDEZ HARBOR INN : Located at the water's edge, this small BW fully satisfies our comfort requirements after a good day of ski touring.
ALASKA HOST B&B LODGING : On the road not far from the Hatcher Pass, it is a typical and warm stage.
HOTEL CAPTAIN COOK In the center of Anchorage the hotel is surrounded by good restaurants and bars, enough to celebrate the end of the trip as it should be.
Included
9V GUIDES
Supervision for 6/7 people full time by a fully certified IFMGA / UIAGM mountain guide.
TRANSPORTATION
-The transport of skiers and luggage throughout the trip. Transportation will be by 4-wheel drive pick-up driven by your guide.
ACCOMMODATION
10 nights in comfortable hotels or guest houses in B&B formula on a double room basis.
-4 nights at Carriage House Accommodations in Girdwood with buffet breakfast.
-4 nights at the Best Western Valdez Harbor Inn with buffet breakfast.
-1 night at the Alaskan Host Bed & Breakfast Lodging of Hatcher Pass with full breakfast.
-1 night at the Captain Cook Hotel in downtown Anchorage with buffet breakfast.
SAFETY GEAR
You don't have the famous avalanche beacon, shovel, probe triptych? We can lend it to you. If you have your own safety equipment bring it!
RESCUE EQUIPMENT
Each guide will have all that is necessary for the safety of his group in his rucksack.
Not included
RESCUE INSURANCE
Compulsory for all trips. A good contract covers mountain rescue, transport to the nearest hospital and repatriation. Check your personal insurance contract which may include this risk.
TRIP INSURANCE
Considering the costs incurred, this insurance is strongly recommended. A personal contract can be subscribed individually. The cancellation to be covered may be the cancellation of the stay or the refund of the remainder of the stay in the event of an interruption. Check your credit card policy. Payment by credit card, Visa Premier or Gold MasterCard, may provide cancellation insurance.
SINGLE ROOM
For snorers or to have a little more room.
LUNCHS AND DINNERS
Often group members will pool their money for lunch.
TOURING SKIS
For this ski touring adventure the 9V guides recommend and use skis of 95mm mwide underfoot, equipped with light touring bindings, climbing skins and ski crampons for hard snow.
HELISKIING
Alaska is the eldorado of heliskiing and other mechanical means allowing to reach the isolated parts of its mountain ranges. There are three options that may be interesting to consider.
PLANE TICKETS
All plane tickets are at your expense.
VISA
Check your passport before applying for a visa for the United States.