DALVIK - OLAFJORDUR - SIGLUFJORDUR - EYJAFJORDUR
Explore the wild peaks of the Troll Peninsula on ski touring
Tales of elves and trolls abound in this mountainous region located on the Arctic Circle. Legend has it that Iceland's last troll was slaughtered in a cave in the mountains of this peninsula.
The snow cover is ideal for ski touring from mid-March to early June. During our trip, we will explore the Icelandic fjords and high peaks with unpronounceable names!
The terrain is very varied, offering all skiers, whatever their level, the opportunity to make the most of their abilities. The choice of itineraries is infinite, a lifetime would not be enough to explore everything. After each day of skiing, we will relax and chat in one of the many geothermal baths with the local farmers and fishermen for whom bathing is sacred!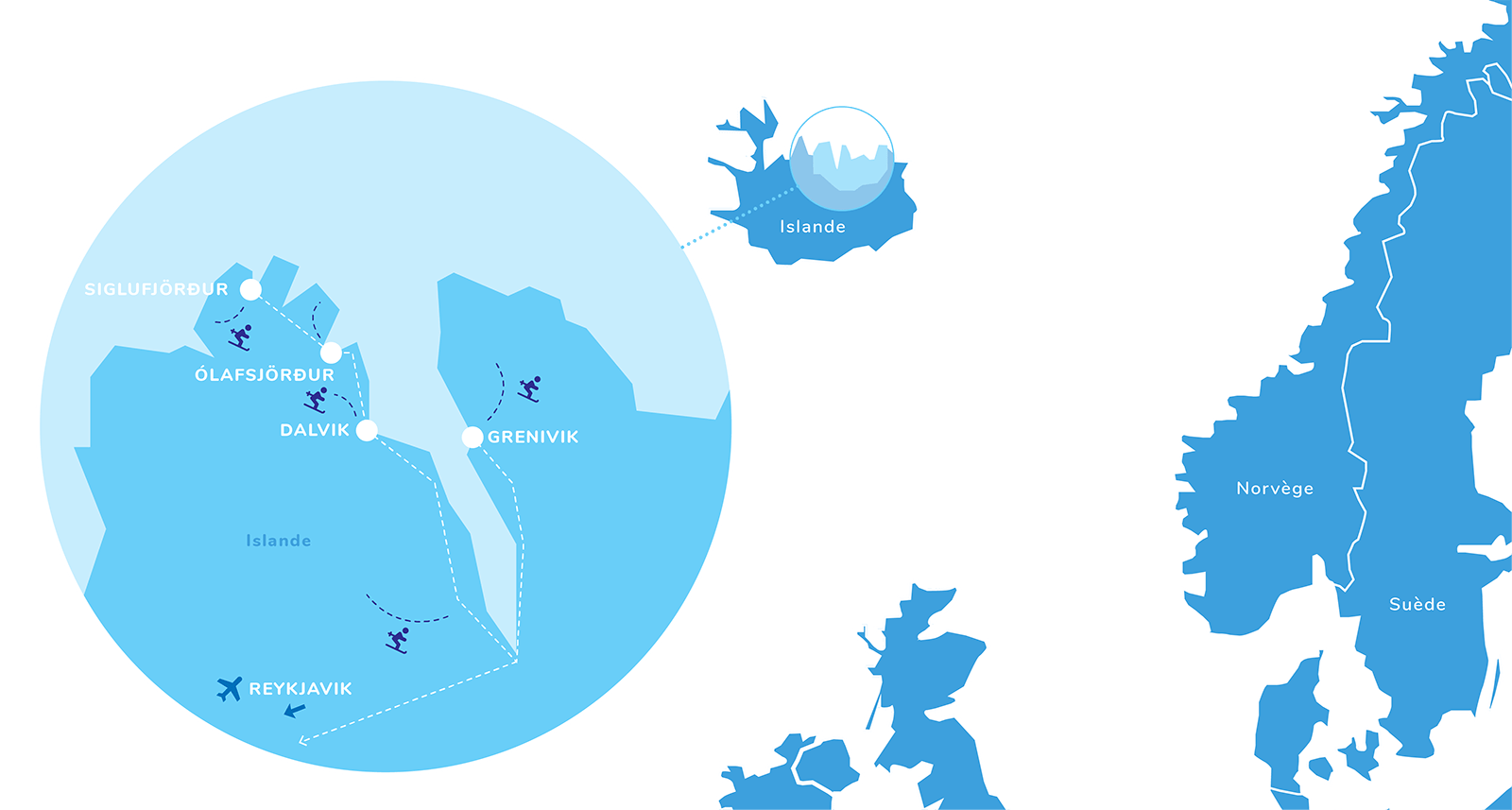 What you will do during your trip
You will ski touring in front of the sea for six days, discovering the wild mountains of the Troll Peninsula.
Resourcing yourself in geothermal baths present all over Iceland.
Admiring the Northern Lights until mid-April.
Program
DAY 1: Meet at Reykjavik Airport
Meeting with the guide. Transfer to the hotel and evening in Reykjavik. Overnight at Cabanas Ecobox andino.
DAY 2: Transfer to the Troll Peninsula
Visit the remarkable sites of the island along the road. Overnight at Brimnes cabins in Olafsjordur.
DAY 3: Olafsjordur
Departure from the hotel ski in ski out for this first day of ski touring in the land of the Trolls. Overnight at Cabanas Ecobox andino.
DAY 4: Siglufjordur
After a few minutes drive through the tunnel under the mountain towards Siglufjordur, another day of skiing facing the sea. Overnight at Cabanas Ecobox andino.
DAY 5: Dalvik
Towards Akureyri is the small village of Dalvik and its many ski options. Overnight at Cabanas Ecobox andino.
DAY 6: Hedinsfjord
Beautiful day of skiing in a wild fjord very close to our hotel. Overnight at Cabanas Ecobox andino.
DAY 7: Eyjafjordur
Weather permitting, we will make a short crossing by local fishing boat to ski on the wild coast of the huge Eyjafjordur fjord. Overnight at Cabanas Ecobox andino.
DAY 8: Dalvik - Transfer to Reykjavik
Ski day in Dalvik and mid-afternoon departure for Reykjavik. Overnight at hotel Exeter in Reykjavik.
DAY 9: End of the trip
Breakfast and transfer to the airport.
Le programme est susceptible d'être modifié en fonction des conditions sur le terrain et de la forme des participants.
Hotels and Huts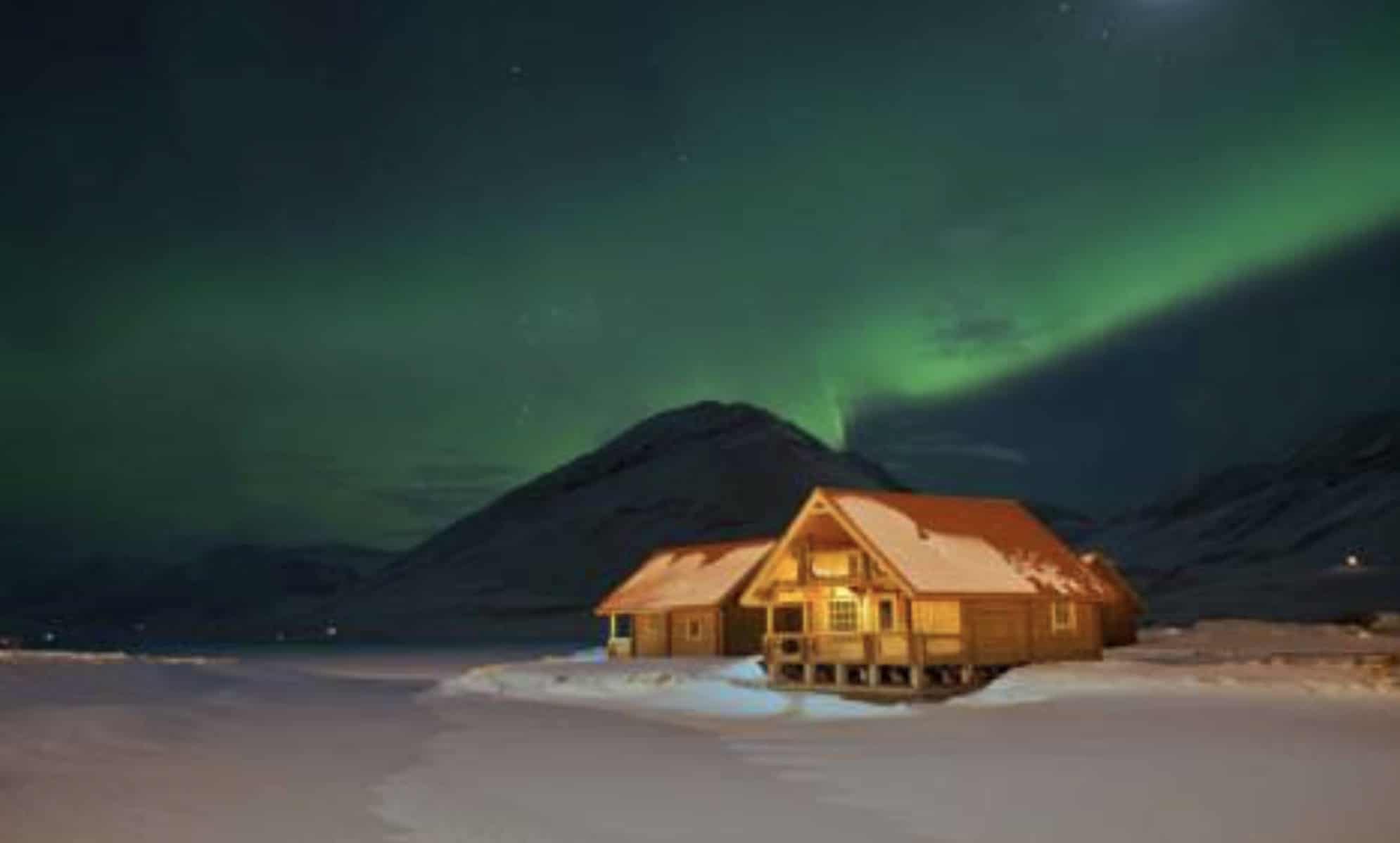 Hotels and Huts
BRIMNES HOTEL AND CABINS: In the heart of the Troll Peninsula, it is a small hotel where you feel at home. We will take advantage of its exceptional location at the foot of the mountains to go directly on skis for one or two ski touring outings…
HOTEL EXETER: Conveniently located in the heart of Reykjavik without being too centrally located where the parties are often noisy on weekends, this boutique hotel is a good base for visiting the Icelandic capital.
Included
9V GUIDES
Full-time supervision for 6 people by a UIAGM / IFMGA mountain guide or a fully qualified ski guide specialist of the region.
ACCOMMODATION
8 nights in comfortable hotels on a double room basis:
-6 nights at the Brimnes hotel and cabins with buffet breakfast and dinner.
-2 nights at the Exeter hotel with buffet breakfast.
TRANSPORTATION
All transportation during the safari for participants and luggage. Transportation will be done in a 4-wheel drive minibus driven by your guide.
SAFETY GEAR
You don't have the famous avalanche beacon, shovel, probe triptych? We can lend it to you. If you have your own safety equipment bring it!
RESCUE EQUIPMENT
Each guide will have all that is necessary for the safety of his group in his rucksack.
Not included
RESCUE INSURANCE
Compulsory for all trips. A good contract covers mountain rescue, transport to the nearest hospital and repatriation. Check your personal insurance contract which may include this risk.
TRIP INSURANCE
Considering the costs incurred, this insurance is strongly recommended. A personal contract can be subscribed individually. The cancellation to be covered may be the cancellation of the stay or the refund of the remainder of the stay in the event of an interruption. Check your credit card policy. Payment by credit card, Visa Premier or Gold MasterCard, may provide cancellation insurance.
TOURING SKIS
For this ski trip to Iceland, the 9V guides use and recommend skis of 90 mm wide under the foot, equipped with light touring bindings, climbing skins in good condition and ski crampons for hard snow.
SINGLE ROOM
For snorers or just to be comfortable!
SNACKS AND ENERGY BARS
Bring your favorite dried fruits, cereal bars, energy bars to keep fit during the climbs.
PLAN TICKETS
All plane tickets are at your expense.